Go Go Gone, But Not Forgotten
Five years ago this week, I had the luxury of producing a new show on South First Street in Downtown San Jose's SoFA District. For four years, Go Go Gone Show entertained folks with an old concept: Performers had 3 minutes and 33 seconds to show off their talents to three local "celebrity" judges, who had score cards, a mallet and a gong. If the judges liked the performance, the act got a score—if they didn't, they were gonged and disqualified.
This show was my flagship monthly event held every third Wednesday at Cafe Stritch, often times filled wall-to-wall with patrons and performers. It's a strange feeling to imagine being should-to-shoulder, squeeze through the crowd to rush to the stage after a performer was unceremoniously rejected by the panel. My co-host and timekeeper Tom the Timelord and I had an almost psychic connection and could run the show without much verbal communication.
I miss hosting events, but that show was my favorite kid. This Wednesday would have been our fifth birthday show and I had planned to rent a tux for it. 2020 gonged so much of what we identified with, in our cities, towns and communities. But the Go Go Gone Show worked because of the people: Tom, me, the performers and—most importantly—you, the audience. We're still here and we are going to gong again. Keep your mallet steady, stay vigilant and stay safe, South Bay!
Send your events to mightymike [at] weeklys [dot] com
---
WEDNESDAY
Lunar New Year Celebration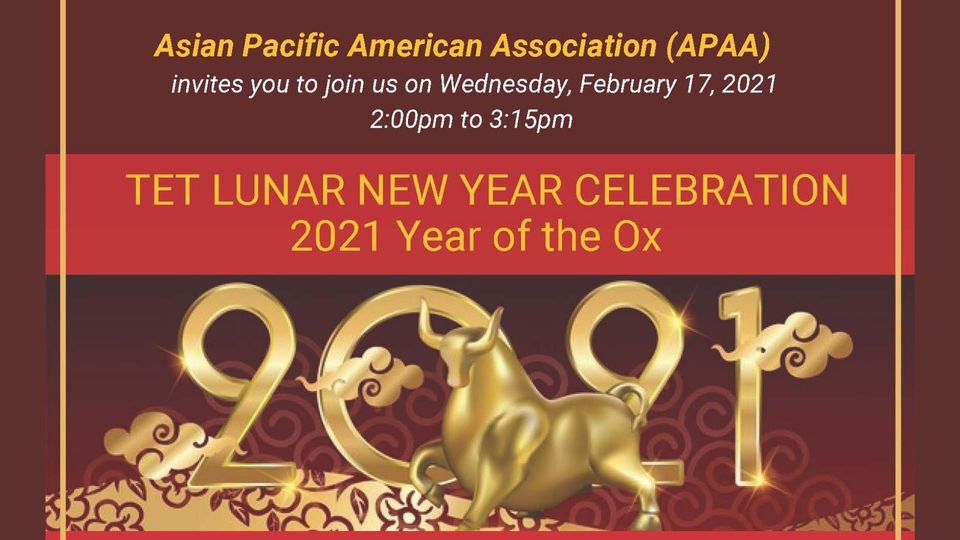 Wed, Feb 17, 2pm–3:15pm
More info can be found at Facebook
Presented by Asian Pacific American Association and San José City College. This year marks the 100 Years Centennial Celebration. Events include first history of Lunar New Year/TET, family celebration videos and photos, games, trivia and student presentations.
Teen Watercolor Postcard Swap
Wed, Feb 17, 3pm–4pm
More info can be found at mountainview.libcal.com
Presented by Mountain View Public Library's Silicon Valley Reads program. Create and share watercolor art! Pick up a take-and-make art kit and follow along on Zoom as librarians walk you through creating your own postcard-sized watercolor masterpiece. Then swap with another teen! Kits include watercolor paints, brush, paper, and a pre-addressed envelope for you to mail your art back to the library and to receive someone else's to admire.
Poet Theresa Davis at the Ugly Mug
Wed, Feb 17, 8pm
More info can be found at Facebook
Presented by Two Idiots Peddling Poetry and The Ugly Mug. Theresa Davis is one of Atlanta's best known performance poets, slam champions, authors and educators—she's one all around badass. Here's your chance to be introduced to a poet who has inspired a whole generation of spoken word artists. Open Mic to follow.
THURSDAY
The Bidness: Episode 30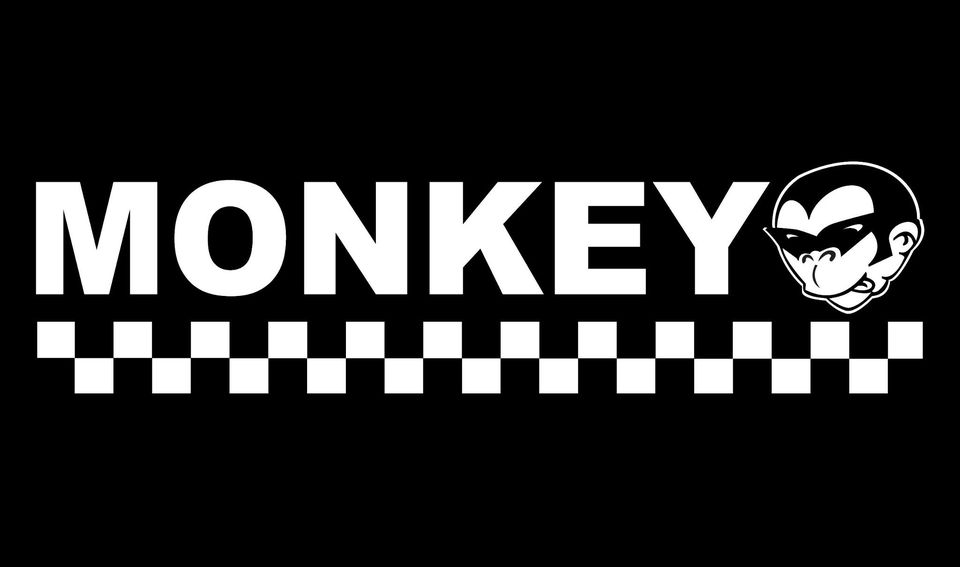 Thu, Feb 18, 4pm–5pm
More info can be found at facebook.com/Monkeyska
The Bidness is a live talk show where people in the Entertainment/Arts community can discuss how to roll the ball forward. Hosted by members of Monkey, the legendary San Jose ska band. Guests include Erin Wallace (The Sentiments), Greta Cornett (12 Cents for Marvin), Tara Hahn (Half Past Two) and Swingin' Johnny (Los Nauticals).
Virtual Drink and Draw
Thu, Feb 18, 7pm–9pm
More info can be found at artboutiki.com
Presented online by Art Boutiki Music Hall and Carlos Velazquez. We implore you to pull out those coloring books, notebooks, sketch pads, crayons, water colors, markers and, of course, your favorite beverage! With a DJ playing Motown, soul, garage and more, you may find it difficult to draw while dancing! Drink and Dance and Draw!
FRIDAY
Virtual Paint Night: School of Fish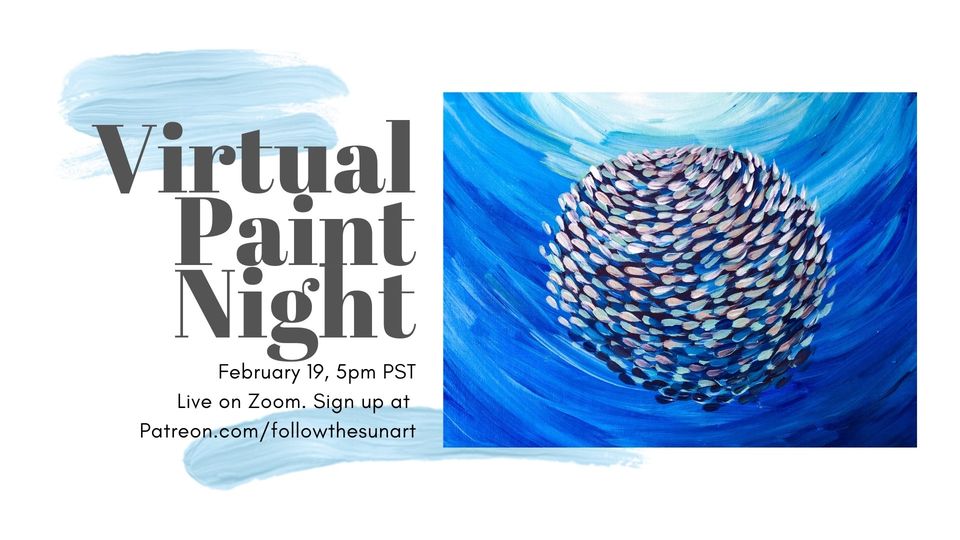 Fri, Feb 19, 5pm
More info can be found at Facebook
Join professional artist Ana of Follow the Sun Art for an evening of creativity. All ages & ability levels are welcome to participate! The class will take place on Zoom, but no one is required to be on screen. Drop in rate is $10/household. Register via ticket link for your Zoom invitation.
LGBTQ+ Comedy: Black & Proud II
Fri, Feb 19, 8pm–9pm
More info can be found at Eventbrite
This show spotlights black and LGBTQ+ comedians and gives audiences a chance to hear their stories. Featuring Alissa C. Lindquist (Concord, CA), Avery Scott (Pontiac, MI), Scott Dobbin (Raleigh, NC) and Kendra Dawsey (Boston, MA), with KJ Whitehead (Chicago, IL) headlining. Hosted by local comedian and producer, CynthiaInPublic.
SATURDAY
Pop-Up in the Park: '2020 Vision' Exhibit

Sat, Feb 20, 10am–2pm
Santa Cruz Museum of Natural History
1305 E Cliff Drive, Santa Cruz
More info can be found at santacruzmuseum.org
In-person event: masks and social distancing required! For those of you missing that museum experience, the incredibly fascinating Santa Cruz Museum of Natural History is hosting an outdoor pop-up exhibit and pop-up shops for you to peruse. They've created a physical version of the '2020 Vision' exhibit to be displayed outside and in the sun. Do be sure to check the weather forecast!
Jingletown Reading & Open Mic
Sat, Feb 20, 2pm–3:30pm
More info can be found at Facebook
Jingletown welcomes Melissa Hung, La Poeta Violeta and Paul Flores. These poets, educators and activists will perform poetry and speak on a variety of topics. Hosted by Adela Najarro & harold terezom. Doors open at 1:45 pm. Followed by open mic.
Family Laughs: Family Friendly Comedy Show
Sat, Feb 20, 6pm
More info can be found at Facebook
The new live family-friendly clean comedy show is hilarious for all ages!
Featuring five fantastic funny folks to fill your house with guffaws: Smita Venkat (@almostfavorite), Nicole Tran (@nicoletrancomedy), Ed Smyth (@smyth.ed), Paul Kilmer (paul.kilmer.5) and Nina G (Performed for the President).
Stage: Bad Auditions…On Camera
Sat, Feb 20, 7pm
More info can be found at Facebook
In SBSC's first play of the year, a casting director has one day to find an actor to fill the role of a lawyer in a crime procedural—which proves nearly impossible thanks to a slew of overactors and auditioners that just don't get it. Step behind the doors of a casting session in this hilarious comedy. Written by McWethy and Carrie McCrossen. Directed by Jenny Arbizu.
SUNDAY
The Downtown Santa Cruz Makers Market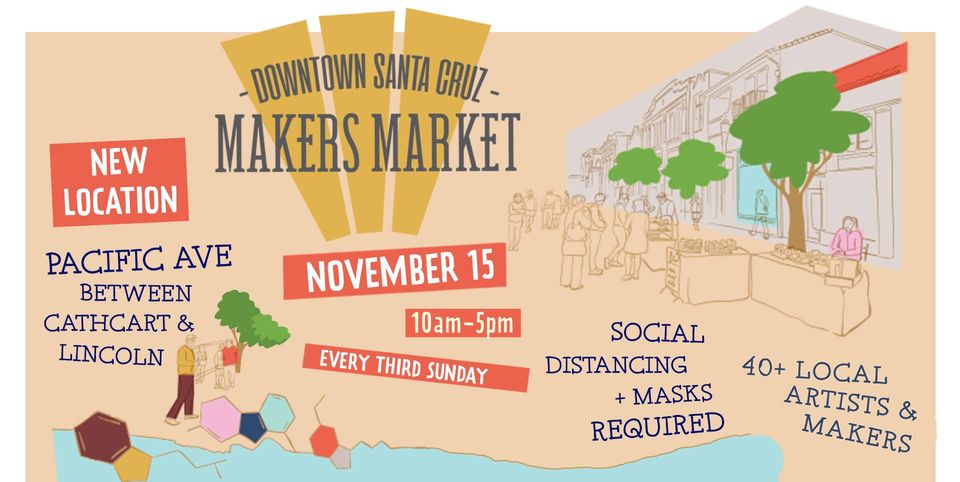 Sun, Feb 21, 10am–5pm
More info can be found at scmmakersmarket.com
In-person event—masks & social distancing required! Shop every third Sunday with over 30 makers, artists and downtown shops. Located on the 1100 block of Pacific Ave between Cathcart and Lincoln Streets in Downtown Santa Cruz.
Dragon's Nest presents Dragon Eggs
Sun, Feb 21, 2pm
More info can be found at Facebook
Presented by Dragon Productions Theatre Company and Kimberly Ridgeway. Dragon Eggs is a monthly short plays program where three plays by local playwrights are selected based on a theme, then read and reviewed by Bay Area theatre professionals. This month they will and discuss three plays focusing on Love of Self / Love of Community with an emphasis on African American History Month: "Ava Hearts Riley" by Cris Eli Blak, "Not Your Average Jo" by Allison Fradkin and "Soul Mates" by Kimberly Ridgeway.