#AllWheelsWelcome
This past Saturday evening, I dressed warmly, added a small string of lights to my backpack, filled my water bottle, masked up and climbed onto my trusty bike. I joined a couple of my podmates (also on bikes and skates) to meet up with about a hundred other folks at City Hall in downtown San Jose. United We Roll takes place there every first Saturday of the month, meeting at 6pm and rolling out around 6:30pm. There seemed to be an equal amount of bicyclists and roller skaters, several skateboarders and at least one unicyclist. At 45, I was certainly not the oldest roller among the throng of 20-and-30-somethings. From seven years old to septuagenarian, everyone was welcome. It felt great to see so many people out in the mild evening, sticking close to their pods, some dressed up like they were heading out to the club, others more aware of the concept of winter, or as I like to call our fourth season: extreme autumn. We biked around a planned route of mostly residential streets. Many volunteers rolled ahead to guard the procession from vehicle traffic, which was patient and supportive. One cyclist had a bike trailer filled with bottled water and masks to give out to rollers in need. The entire crowd was incredibly respectful of space. The night was thoroughly enjoyable. I had fun with others and I felt safe being there—I haven't felt that way in almost a year. I have no reason not to join them again on March 6. Follow San Jose Roll Call, keep on rolling, stay vigilant and stay safe!
Send your events to mightymike [at] weeklys [dot] com
---
WEDNESDAY
Radio Play: Much Ado About Nothing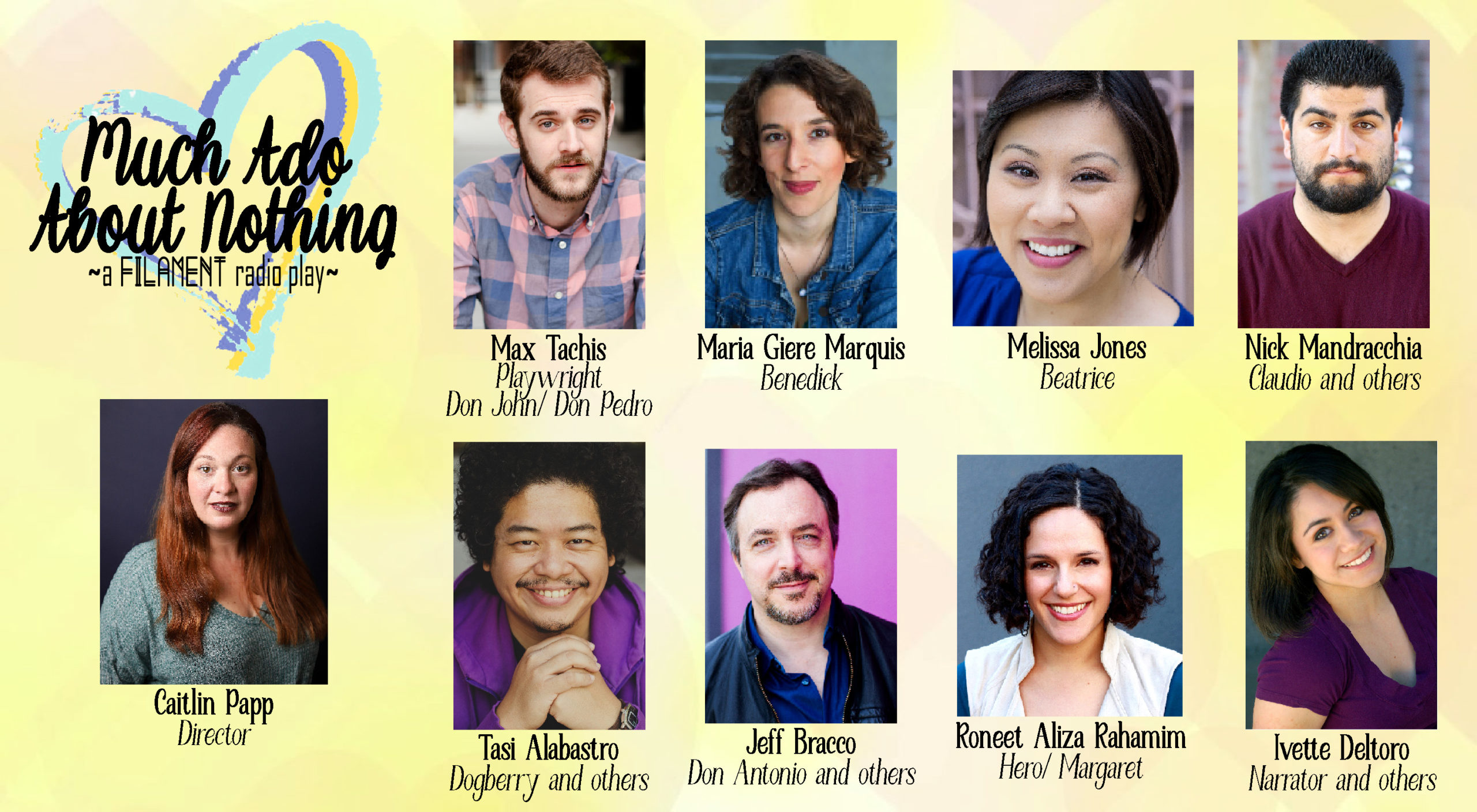 Now playing
More info: cltc.org/filament
Presented by Filament: A City Lights Podcast. Director Caitlin Papp is thrilled that playwright Max Tachis has made the script's central love story a same-sex romance. Modernizing Shakespeare is not new, but this update is fitting and just as fun as the original play. If you have not seen Much Ado About Nothing, this will be a delightful introduction. Note: Papp and Tachis volunteered their time to this production to help keep the lights on. Donations are warmly appreciated.
Readers Theatre Kids
Now through March 29
More info: campscui.active.com
San Jose's Playful People Productions is offering more sessions of its popular Readers Theatre Kids program, where children meet online to read scenes and scripts, strengthen reading and performance skills, learn how to create characters, and play with different voices and ways of speaking. All sessions are held on Zoom.
Stage: Fairfield by Eric Coble
Now streaming
More info: thepear.org/season-19
In this hilarious play, Fairfield Elementary is a progressive integrated school in a progressive integrated community where Black History Month goes horribly wrong. One bad role-playing exercise by an over-eager first grade teacher and suddenly black and white parents, principals, superintendents, and teachers are fighting for their educational lives. Household streaming tickets available.
Comedy: Sugar & Spice Open Mic
Wed, Feb 10, 7pm-9pm
Sign-up and streaming info: bit.ly.bangoufeb10
Presented by Bangou Productions every Wednesday. CynthiaInPublic hosts comedians from all over the world, some veterans and some just starting out. If you've ever wanted to test your comedic skills, this is your opportunity to do so from the safety of your own chair under your own roof. Get your best five minutes ready and sign-up!
Berkeley Poetry Slam feat. Billy Tuggle
Wed, Feb 10, 8:30pm
More info: bit.ly/berkslam10feb
Presented by Rick Oak Events. One of Chicago's most respected performance poets, Billy Tuggle joins the Berkeley Poetry Slam for a set of poems that should rouse any part of your consciousness that is still sleeping. Sign-up info for competing poets at link.
THURSDAY
The Youth SDG Summit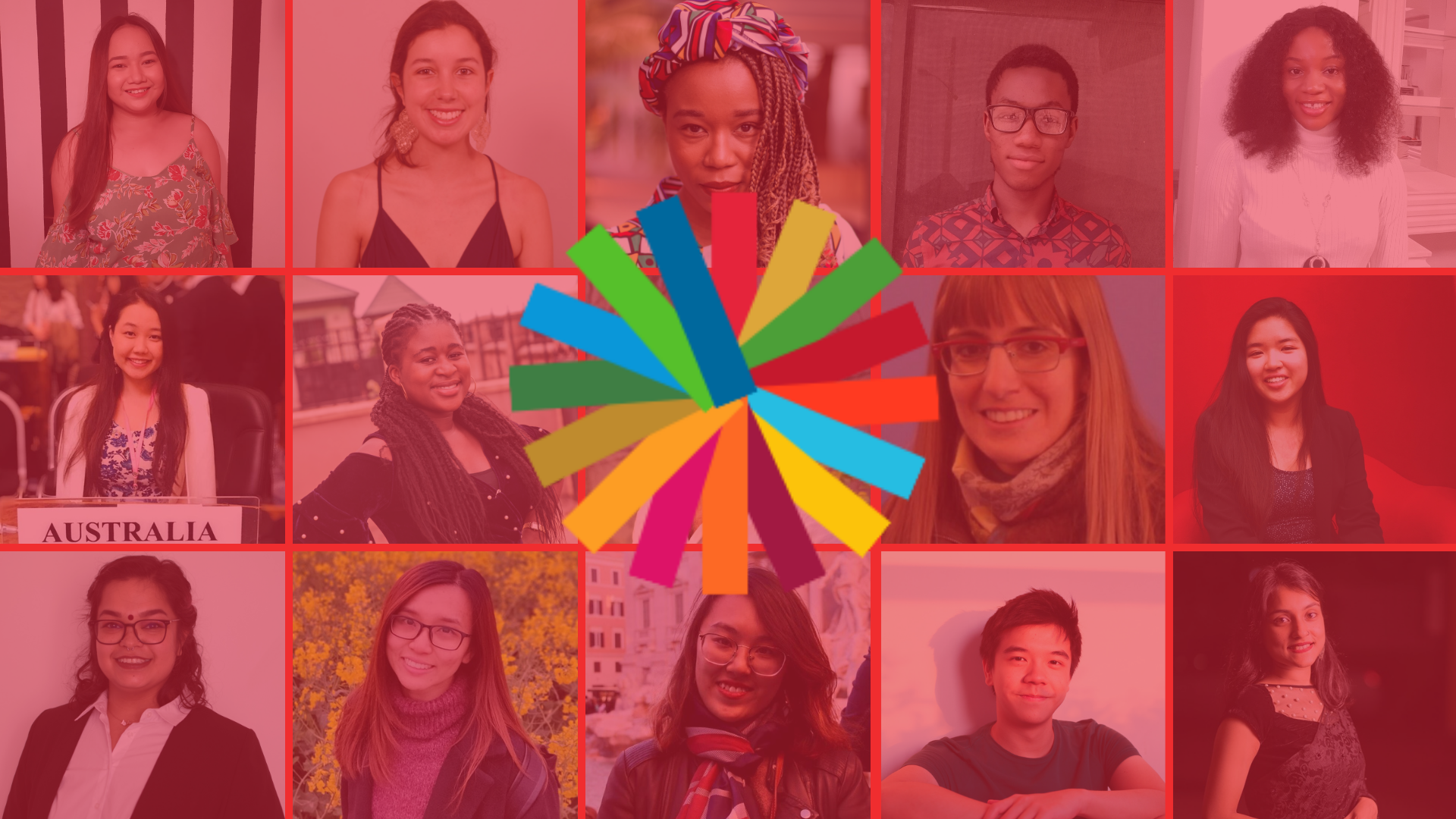 Thu-Fri, Feb 11-12
More info: youthsdgsummit.com
There is no better time for young folks to speak up about what they want for themselves and for the planet. Powered by Unite 2030, this summit is a hub for growing minds, young leaders and those who can help to exchange ideas and design the next decade.
Virtual Library Workshop: African American Scientists
Thu, Feb 11, 4pm
More info: bit.ly/campcap11feb
Camp Captivate presents this workshop to honor Black History Month. Students will explore the work of some influential black scientists, including George Washington Carver, Mae Jemison, Neil De Grasse Tyson, Katherine Johnson, Percy Julian and Marie M. Daly. After learning about some of their contributions to science through history, students will color and assemble an Andy Warhol-inspired stylized 'pop-art' collage of famous African American scientists.
HerStory: A Celebration of Black Female Artists
Thu, Feb 11, 4pm–5pm
More info: bit.ly/herstory11feb
Leadership and Arts Coalition have partnered with artist Jahné Brown to curate an online spotlight on the work of black women. Black women and women-identifying artists, writers, and creatives to reflect on their thoughts of the current placement and status of black women in today's society and how that impacts a definition of success. All are welcome to attend and support.
Tourettes Without Regrets: F*** Valentines Day Spectacular
Thu, Feb 11, 7pm
More info: bit.ly/twrfeb11
Showman Jamie DeWolf and Co. bring one of the biggest, baddest and most daring shows ever to the littlest screen with their annual crowd-favorite The F!!! Valentines Day Spectacular. They want to entertain you no holds barred, welcoming as much controversy, debauchery and mayhem as possible. A night of dirty haiku, rap battles, wild aerialists, burlesque, and much more.
Theater Trivia with Tom & Luisa
Thu, Feb 11, 8pm
More info: cltc.org/thenextstage
Two of City Lights Theater Company's favorite actors Tom Gough & Luisa Sermol do their best Alex Trebek (R.I.P!) and ask you all of the theater trivia questions to which you probably know the answers. Or just watch others throw down knowledge about the stage.
FRIDAY
Black History Month Celebration: A Focus on Business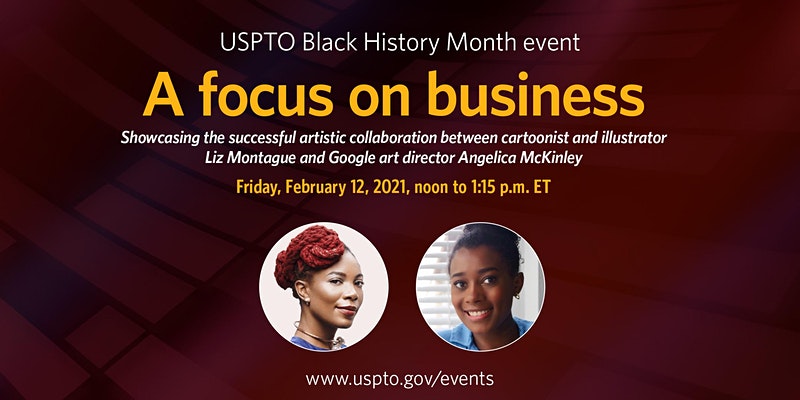 Fri, Feb 12, 9am-10:15am
More info: bit.ly/ormes12feb
In this free online talk presented by San Jose Public Library, you'll learn how large scale creative projects are produced, from concept to launch. Get a behind-the-scenes view on the creative process of Elizabeth "Liz" Montague, a Philadelphia-based artist, and Google's Art Director Angelica McKinley for the first guest artist slideshow Google Doodle for Jackie Ormes, a groundbreaking Black cartoonist and activist. This panel discussion promises to be inspiring and informative on fostering creativity and executing impactful work during a global pandemic.
Hotspot in a Hotspot: Biodiversity in the Bay Area
Fri, Feb 12, Noon
More info: bit.ly/post12feb
In this online talk presented by Peninsula Open Space Trust, author Mary Ellen Hannibal will expand on her POST blog: "What Makes the Bay Area a Biodiversity Hotspot?" She will discuss the official hotspot designation, highlight some native species and emphasize the interconnectedness of life across time and the role of large landscape conservation in sustaining ancient relationships.
Birdy Hour Speaker Series with Lara Tseng
Fri, Feb 12, 5pm
More info: bit.ly/birdy12feb
How My Bluebird Study Grew My Love of Birds, Science, and Conservation. Imagine studying something so deeply that it sends you down a lifelong path. At 13, Lara Tseng is at the beginning of that path, but she's taking two steps at a time. Learn and be inspired by someone who truly loves what she's doing. Suggested donation of $5. Presented by San Francisco Bay Bird Observatory.
Circus of Sin: Love in the Time of Covid
Sat, Feb 12, 8pm-ish
More info: bit.ly/circus12feb
There's nothing like Valentine's Day to draw out the sexiest vibes from entertainers and performers. This year's Circus of Sin entry for the big red day of love is a submission submission featuring burlesque, dance and more from NoReason, Jynx Merlot, Freddye Dollma Starr, Emerald Embers, Noctua, Bessie Snow, Amber Lust, Violette Skies and more.
SATURDAY
Makers Market Returns to Santana Row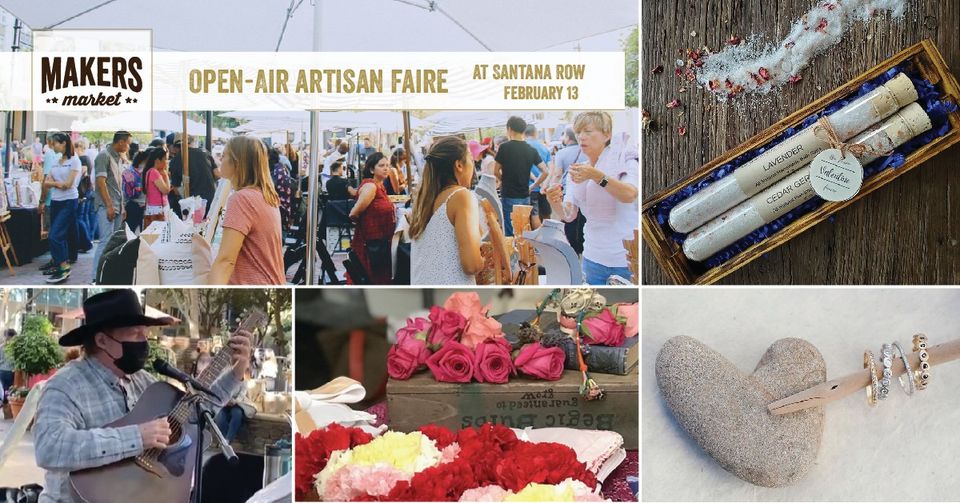 Sat, Feb 13, 11am–5pm
377 Santana Row, San Jose
More info: bit.ly/santana13feb
In-person event: masks and social distancing required! An outdoor, open-air marketplace featuring dozens of the best local makers of jewelry, organic body care products, home goods, apparel, glass and floral arrangements. Handcrafted and eco-friendly. Featuring live music from Nashville country singer Fred McCarty.
Community Day: Lunar New Year
Sat, Feb 13, 10:45am-3pm
More info: bit.ly/sjmalunar13feb
Celebrate Lunar New Year with the San Jose Museum of Art! They're kicking-off the Year of the Ox with artmaking activities, cultural demonstrations and live performances. Highlights include performances by Rising Phoenix Lion & Dragon Dance Association and Korean Cultural Center Urisawe, and the traditional and modern Vietnamese poetry workshop Ca Dao: Journey | Poetry | Life.
Black Laughs Matter: Virtual Comedy Show
Sat, Feb 13, 8pm
More info: bit.ly/blacklaughsmatter
Presented every Saturday night on Zoom, this week's line-up includes Frankie Marcos (Winner of Heavyweight Comedy Showdown), Insane Wayne (Shaquille O'Neal All-Star Comedy Jam) and Leonard Williams (Comedian and actor from Chicago). Hosted by Terry Dorsey, comedian and actor originally from Chicago, featured on BET's Comicview.
SUNDAY
Stage: "Books and Roses"
Sun, Feb 14, 21, 28
Schedule: zspace.org
Presented by Word For Wordcast, Books & Roses is the story of Montserrat, a foundling left in a Catalonian chapel—her only possessions are a key hanging on a golden chain around her neck and a note. "Books & Roses" is from Helen Oyeyemi's short story collection, What Is Not Yours is Not Yours, which will be enacted theatrically in three parts each Sunday this month by a cast of voice actors.
San Jose Outdoor Dance Church
Sun, Feb 14, 10am–Noon
More info and locations: the418project.org/dance-church
In-person event: masks and social distancing required! This in-person and online event wants to get you up and dancing every Sunday morning. You can join fellow dancers in-person, well-spaced at San Jose at Saratoga Creek Park, University Terrace in Santa Cruz or even more spaced out online from the comfort of your home.
San Jose Poetry Slam feat. Hillary McHenry
Sun, Feb 14, 7pm
(Sign-up to compete opens at 6:30pm)
More info: bit.ly/sjps14feb
Now on Zoom, the San Jose Poetry Slam celebrates Black History Month with local poet and educator Hillary McHenry—always a crowd favorite. Presented by Poetry Center San Jose. Check out pcsj.org for more local poetry events.