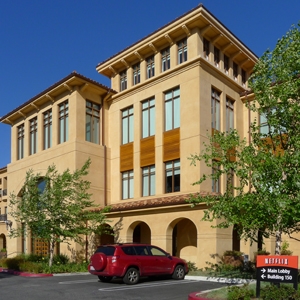 Los Gatos native Netflix convinced the town council to give it a variance to build a five-story office complex across from its current headquarters.
Company Town
Opponents of the Netflix expansion frequently refer to the site of the new headquarters as "the park." It is in fact the Los Gatos Business Park, a 1970s-era development that fits the name.
Two big interconnected loops, both known as Albright Way, wind through its 21 acres past eight unremarkable one-story office buildings. The property is shaded by hundreds of mature trees including yellow pines, poplars, maples and redwoods, all planted when the park was built 30-plus years ago. The parcel faces Winchester Boulevard and Highway 85 and backs up to another light-industrial park and the Los Gatos Creek Trail.
Architectural drawings that the developers have been showing around the community depict two buildings that more or less resemble Netflix' current campus across Highway 85. In some ways the nicely articulated neo-Mediterranean edifices, with their set-back upper stories and red-tile roofs, look more like apartments or condos than offices. (A controversial second phase of the development would in fact allow the developer to build a 178-unit senior housing project if a commercial tenant can't be found.)
Thanks to the canopy, the four- and five-story buildings will be partially obscured from view. A three-story parking lot will abut the wall separating the park from Highway 85.
The proposal approved this week was not brought forward by Netflix, but by a company called LG Business Park LLC, which recently purchased the land.
In several conversations over the weeks leading up to Monday's vote, Larson was careful to point out that his support for the project went beyond the specific Netflix expansion. He points out that presently Los Gatos does not have any available "Class A" office space—a designation reserved for big, well-equipped structures in prime locations.
While he's pleased that the development approved this week will keep Netflix in his town, Larson would ultimately be satisfied if any big employer leased the space. "Let's remember," he says, "The Googleplex used to be the SGI-plex.
"We did not do this to chase sales tax dollars, but because this is the right thing for Los Gatos," he says.
A professional pragmatist, Larson nevertheless speaks of the deal in almost philosophical terms. It's clear that he believes it isn't just a matter of jobs and tax revenue but of civic pride.
"San Jose has Cisco, Cupertino has Apple, Mountain View has Google, Menlo Park has Facebook and Los Gatos has Netflix," he says. "Los Gatos is part of Silicon Valley. And we deserve to have a corporate headquarters here."