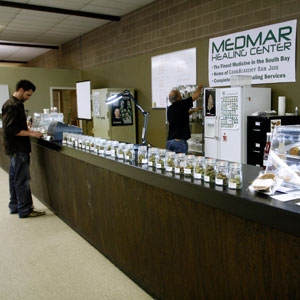 The Med-Mar Health Center has remained open in the wake of last week's raids.
task force has been carrying search warrants issued by Superior Court Judge Phillip Pennypacker.
The timing of last week's raids, two and three days after 79 percent of San Jose voters approved Measure U, has City Councilman Pierluigi Oliverio, the measure's author, somewhat concerned."If they're targeting dispensaries that are not operating under Prop. 215 and [Assembly Bill] 420, that's fine. If they're targeting facilities adjacent to schools or parks, that's fine. But not if these dispensaries are operating in appropriate locations and within the law."Oliverio points out that the SCCSET task force appears to be receiving funding from a grant that was specifically earmarked for the suppression of methamphetamines.
In April, District Attorney Dolores Carr applied for a $470,238 grant from the California Emergency Management Agency (CalEMA). It specifies that SCCSET receive funding due to the "high incidence of methamphetamine cases countywide."
"Emphasis should continue to be placed on methamphetamine suppression, as well as drug-related violence suppression," the grant reads.
Oliverio says those crimes should be prioritized. "If the task force has been given x amount of money for methamphetamines and guns, then maybe they should go after methamphetamines and guns. I think there are more serious crimes being committed in San Jose than medical marijuana being supplied to patients."
In the wake of the Patient Group raid, the 12 medical marijuana dispensaries that make up MC3 have for the most part suspended their operations. "They are refusing to open until the city puts some rules on the books for them to follow," Genovese says, adding that they can't afford to have all of their money, medicine and equipment confiscated. He believes the goal is for the pot clubs to become "victims of attrition."Hector Amador, co-owner of MedMar Healing Center, a medical cannabis collective on Autumn Street, is keeping his doors open. But he is worried that the task force might pay him a visit, despite what he says are rigorous efforts to adhere to the law.
Like Genovese, Amador seems to have read the 2008 AG's guidelines carefully enough to have them memorized. He and business partner Doug Chloupek say they also took pains to comply with guidelines drafted by the city in 1997, the year after the Compassionate Use Act was passed by state voters. And like Genovese, Amador and Chloupek understand that something needs to be done about the unregulated proliferation of pot clubs.
"I honestly don't have a problem with it," Amador says. The problem, he says, is that the city of San Jose has not acted in a timely manner to create an ordinance to regulate dispensaries. "It's the city's responsibility," Amador says. "When you see a problem, you address the problem. So to a point they are to blame."
The fact that the Patients Group was hit seems to lead Amador and Chloupek to fear that this operation is an effort by law enforcement to indiscriminately shut down all of the valley's medical marijuana dispensaries. "Following the election, we thought we were headed in the right direction," he says. "When I heard that Measure U had passed by such a big margin, in a sense that told me the residents of San Jose had said, 'They're OK, as long as we can tax them,' that we can co-exist.And then we hear about these raids."
Amador and Chloupek say they've heard rumors that these raids are just the beginning. "If that's the case," Amador says, "it's really scary."