Rarely does a place live up to its fun, hyperbolic title. The latest addition to Willow Glen's restaurant row, Tac-Oh!, has no such issues. And judging by the line for a recent dinner rush, residents have been anticipating the arrival of the self-described "Mexican comfort food."
Tac-Oh!'s neon sign lights up Lincoln Avenue, as does its ambiance, with upbeat music and chatter pouring out from its fire engine red doors. Waiters stride back and forth wearing clever tuxedo T-shirts, and the interior is well lit with modern glass bulb chandeliers. The scene hovers between cozy—it has the authentic aromas of your favorite Mexican hole-in-the-wall joint—and jumping. Open until 11pm every day, there's a well-stocked bar for those looking for beers or margaritas.
The menu can feel a little daunting at first. The average taco lists off eight to 10 ingredients, some of which I hadn't heard of, and prices are on the high end: two for $12 or three for $16. Shrimp and ahi are an extra $3.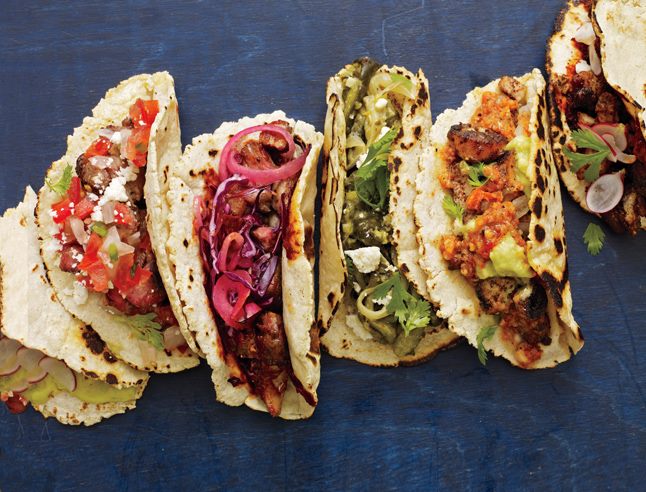 I started with The El Chapo, crunching my way through the hard corn shell towards the center of chipotle crema-drizzled braised short rib. Though I tried to keep it neat, a few seconds in, I was inevitably licking sauce off my fingers and catching the radish and jalapeño cuts tumbling out. In other words, the taco was just how I like it.
The next taco, The California Club, was sort of the reverse composition — a soft shell with shredded chicken, only turning crunchy after I bit into the candied bacon crumbs. And, as the meal comes with complementary Tac-Oh! chips & salsa, I helped myself to ladling on a few scoops of salsa to add an extra kick.
The Kamikaze, pricier due to the ahi, wrapped up the main course with a unique blend of sushi and traditional taco flavor. Its ahi, prepared in a tender, pink sashimi strip, certainly activated one of the more nontraditional tastes I've had from a taco. By the end, I was past full, and my taste buds were overwhelmed with the scope of flavors introduced over the past hour.
Nonetheless, I couldn't leave without trying their popular Churr-Oh! Dippers ($6). The pastry had a generous lather of cinnamon and sugar, with a gelatinous fried dough center. Coupled with the concentrated, viscous chocolate dip, I could practically sense my arteries calling it a night.
Pricier than an average food truck or fast-food joint, Tac-Oh! is perhaps not a frequent option for many. However, the experience was a treat. With summer winding down, Tac-Oh! is worth swinging by to squeeze out the trifecta of a good evening: a cool open-door breeze, funky tunes and surely a dish or two that won't be easily forgotten.
More info.

Find more dining options with the SanJose.com Restaurants Directory.