Just in time for the dog days of summer, Lark Creek Kitchen recently celebrated its grand opening in Santana Row, showcasing a refreshed menu and a modern new dining room with ample outdoor seating.
Led by executive Chef Nicholas Tall, back in the U.S. after four years in Hong Kong working at Amber restaurant, the new menu at Lark Creek Kitchen features seasonal dishes with local ingredients for a cuisine that Tall describes as new American.
"It's celebrating the diversity of cultures, landscapes and terrains that make this country special," Tall says. "Regardless of where all of the citizens of this country come from and their immigrant pasts, it all comes together as American. This new American cuisine is a celebration of that diversity."
The menu will change regularly, but one recurring item will be pork shoulder roasted in banana leaves with a BBQ sauce that is infused with coconut milk. Another option is a ceviche made with local albacore tuna flavored with chayote (a vegetable from Mexico) and calamansi (a citrus native to the Philippines), and served with a bowl made out of a watermelon rind.
Tall is quick to point out that the menu is not "fusion," that once-trendy menu descriptor that fell out of vogue and into a pile of ill conceived, teriyaki-glazed something or other.
"Fusion, to me, is a forced term, where you take something you already created and all of a sudden you add soy sauce or something," he says.
Instead, Tall is finding the subtle commonalities among the Latino and Caribbean dishes he enjoyed during his formative years in south Florida and his personal culinary discoveries during his travels in Asia.
"I've noticed that a lot of Latin American and Caribbean ingredients have parallels to southeast Asia," he says. "There's a lot of use of ginger, cilantro, chilies, lime juice and garlic used in several different parts of the world. All of these things can come together without being forced."
Ingredients at Lark Creek Kitchen will be sourced from Soquel's Happy Boy Farms, and Tall says he is taking steps to use the entirety of all the produce and meats at the restaurant.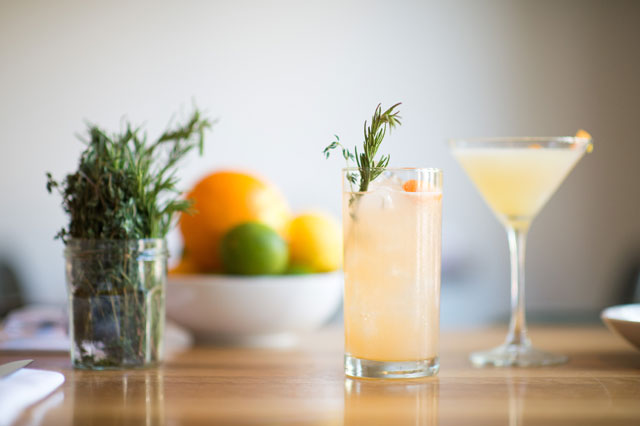 In addition to creative dishes, diners will find refreshing cocktails to match the season, such as the Clear Conscience (vodka, cucumber, ginger, orange and lime) and Bliss (ruby red vodka, mandarine, lemon and prosecco), and the heartier Lavender Manhattan (infused bourbon, carpano antica and rhubarb bitter). The wine list puts an emphasis on California wines with additional selections from Italy and France and other regional favorites.
Lark Creek Kitchen at Santana Row is open for lunch and dinner with table seating in its dining room, lounge area and two outdoor patios. Diners can also eat and enjoy a drink at a small bar or the restaurant's communal table.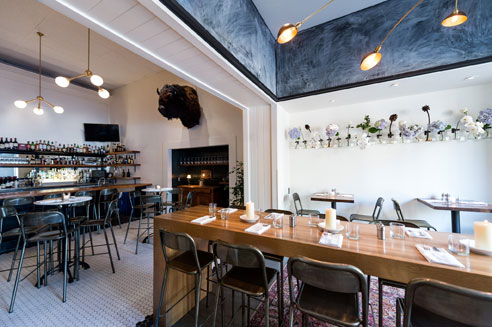 This post has been sponsored by Lark Creek Kitchen. If you'd like to sponsor an existing or future post, please contact our advertising team.