The inaugural Cukui Music Festival, coming up this Saturday at Great America, promises fun for the whole family—from roller-coaster loving teens, water park rats, and fans of some of the best local and national hip-hop, R&B and reggae talent.
Local street wear brand Cukui got its start in San Jose's historic Japantown district, crafting hip designs for their line of hats and T-shirts. Staying true to their South Bay roots, Cukui artists have always worked incorporate the aesthetics of Pacific Islander into their work, while also consistently representing the 408.
Take for example their riff on the San Jose Sharks logo below. The black T-shirt features the local hockey team's logo, but with elements that nod to Cukui's island heritage.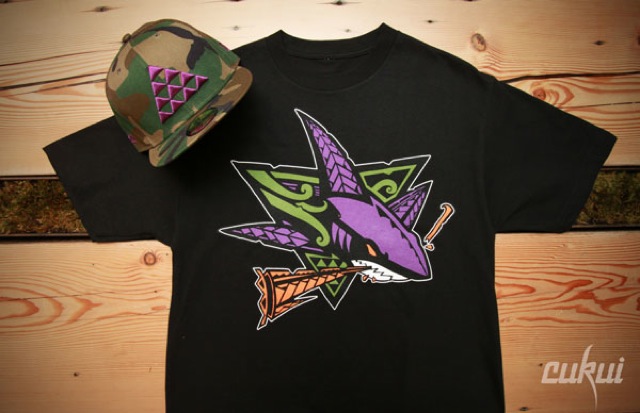 Even 49ers quarterback Colin Kaepernick is a supporter:
But the local clothiers aren't content with just crafting dope threads. This year marks the very first Cukui Music Festival, which features performances from the likes of San Jose's own Rey Resurreccion  to the Los Angeles-based Latin-hip-hop-soul fusion group Ozomatli to one of the North Bay's most promising emcees, IAMSU.
They all converge on California's Great America Sep 3, so visitors can enjoy non-stop adrenaline-pumping rides and attractions at the theme park, grab some food and beer at the many food courts around the park, and enjoy the sounds of the diverse bill.
This year's headliners includes J Boog, a samoan reggae and R&B singer songwriter, who was raised in Compton but now hails from Hawaii; Iamsu, a rapper, singer and songwriter from Richmond, Calif.. who has worked with the likes of Kehlani, Sage the Gemini and Wiz Khalifa and many more. Tribal Seeds, Drew Deezy, Morgan Heritage, Ozomatli, Bayonics, Hooliganz, Zhen and Rey Res also share the bill.
Cukui would not be complete without a variety of local arts and crafts vendors, food trucks and a firework show.