An all-you-can-eat-and-drink food festival is a smug, no-apologies celebration of the freedom of adulthood through the euphoric rare chance to behave like a kid. Hundreds wearing ear-to-ear grins streamed into the Super Bowl-crowned arena with not one sport on the brain, but rather to shelve every clean-diet new year's resolution. Bacon, sausage, arugula mini-sandwiches, by San Jose's 7 Stars Bar and Grill, and Bourbon Steak & Bourbon Pub's slabs of velvety, pork belly, were some of the first moan-inducing, first bites.  The national stadium-touring Bacon and Beer Classic was not only a foodie, high quality all-you-can-eat grub cookout. It was a local craft beer showcase, and a food and beer competition.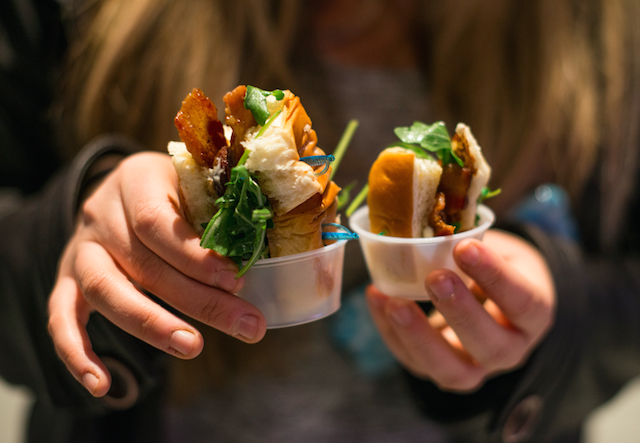 Although the judging was largely unbeknownst to anyone, the categories proved the well-chosen, diverse attendance of talented cooks, recipe-writers, and brewers.  The day was also a nostalgic dive into adolescence: jumpy house, sumo suit wrestling, and human-sized Jenga were set up. There was a scenic, aerial view of the stadium as one snaked from outdoor festival area, to the indoor pig out hall. There was little time to admire. The bacon ice cream, bacon caramel, and bacon cheesecake called, as well dozens of beer taps.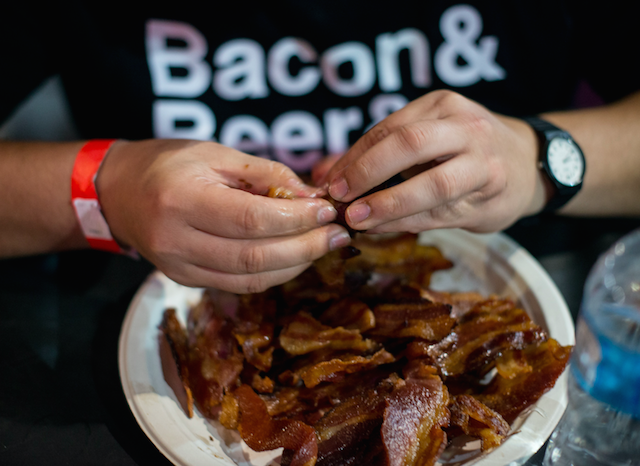 The petite, three ounce ceramic Red-Cup made sense once one saw how many beers and ciders were being poured. Fruit beers and ciders made a big showing, with Green Flasher's Passion Fruit Kicker and Sunnyvale's, Red Branch Cider's seasonal apricot cider packing lines.  Coronado Brewing Company's Stingray IPA deserved its win.  It was the perfect thirst quencher to the hearty grub. Lagers, ambers,  and darks were all represented.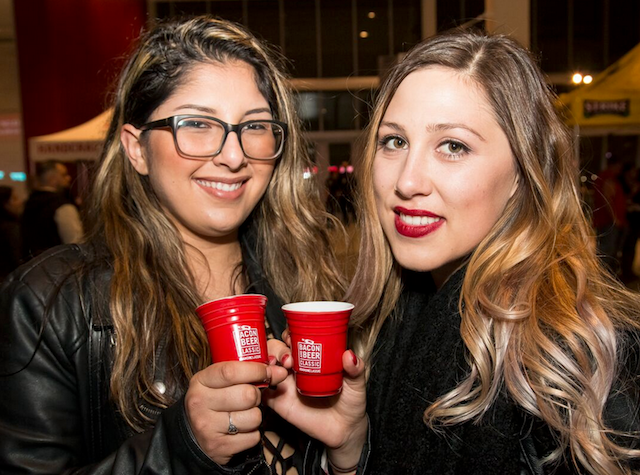 For the bacon purist, Nom Burger's jalapeno bacon was a flawlessly seasoned variation on the classic strip, with just enough kick. Lost Coast's Aargh Pale Ale soothed the burn. Kojio Republic's bacon-wrapped Oreo was a crowd favorite and winner. It was a perfect showcasing of bacon's versatility. It paired harmoniously with the Six Rivers' winning, Macadamia nut porter or Strike Brewing Company's Big Wall Imperial Stout.  Centerplate's Seared Diver scallop nestled in potato hash and sweet bourbon bacon lardons was perfectly cooked and voted the best overall dish of both sessions.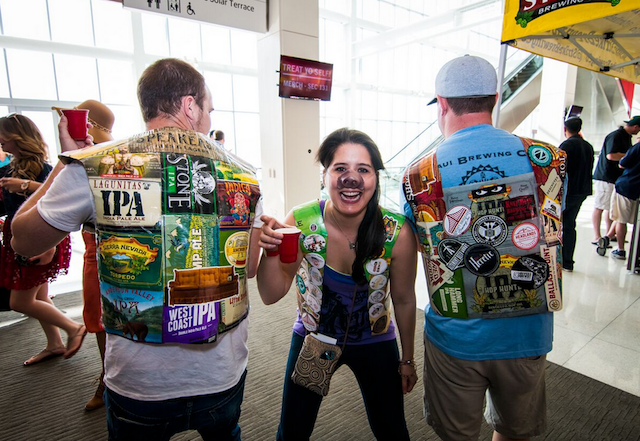 Defeat, jealousy, and stomach pain were hard to hide for those who participated in the bacon eating contest. Some rolled the strips, other stuffed fists full of greasy bacon into their mouth. The crowd screamed ecstatically as those who dominated and those who slouched in  defeat identified themselves. The winner won a year's supply of bacon. When asked about his prize he yelled, "I'm going to eat it all!" It was scrumptious but impossible to do just that, that night. The food coma faces settled as everyone waddled, happily home.