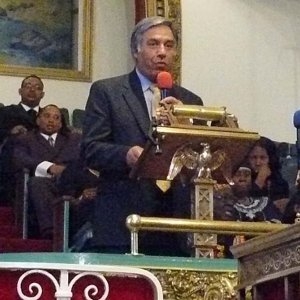 Mohammad Qayoumi has been named the next President of San Jose State University. Here he is seen speaking at the Greater Saint John Missionary Baptist Church.
Mohammad Qayoumi has lived his life by Eleanor Roosevelt's maxim, "The future belongs to those who believe in the beauty of their dreams." The son of a carpenter from rural Afghanistan and mother who was illiterate, Qayoumi believed in the power of education to raise him up from his humble beginnings, and he went on to pursue a degree in Electrical Engineering at the American University of Beirut. This was followed by a scholarship at the University of Cincinnati, where he earned an MS in Nuclear Engineering, another MS in Electrical and Computer Engineering, an MBA, and a PhD in Electrical Engineering (who said scholarships don't pay off?).
This summer he will be assuming the position of President of San Jose State University.
This is not the first time that Qayoumi has been with SJSU. He already served as Vice President of Administration from 1986 to 1995. From there he moved on to CSU Northridge and CSU East Bay in Hayward, where, as President, he managed to deal with a dwindling budget through effective cost-cutting measures, while shifting the school's academic emphasis to the SMET (Science, Math, Engineering, and Technology) disciplines.