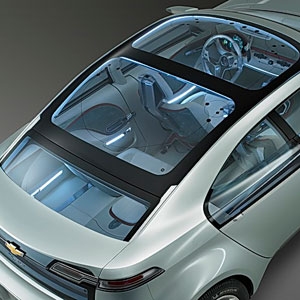 The Chevy Volt is as cool-looking as promised, but falls far short of its promised mileage.
The jury is still out after the Green Drive Expo this weekend in Richmond. About 3,000 people attended the event, which was hosted, appropriately, in the Craneway Pavilion, a converted Ford auto assembly plant. The event was sponsored by Autobytel.com, a website selling new and used cars, which focuses on greener transportation alternatives.
All the big names were there, from Prius (which was also well tested as a Google robot car) to the soon-to-be-released and Nissan Leaf, as well as the American Big Three reps, the Chevy Volt and the Ford Escape. There was plenty of demand too, though there was also concern that the cost of the new cars may impede their rapid adoption. "Once there are used electric cars, I'll buy one," said Rosana Francescato, who arrived at the event in her smart car. "Even with the rebates, it's upwards of $20,000." The Leaf is expected to retail for $33,000, while the Volt will retail for $41,000.