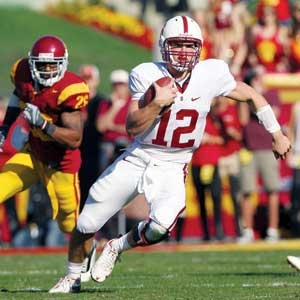 Andrew Luck's passing prowess could bring serious NCAA cred to Stanford—and he's got ground game too.
Stanford vs. Sacramento State, Sept. 4, 3:30pm, Stanford Stadium, Palo Alto.
"He'll make a play once—throwing off a back foot, throwing a strike that'll just make your jaw drop. Then you'll see him in the locker room talking to the freshman walk-ons, just giving advice. And that's a special type of person who leads not because he's good, but because people are attracted to him."
Conor McFadden, a walk-on freshman offensive lineman for the Stanford Cardinal, is talking about Andrew Luck. Premier football intangibles, a great work ethic and a charismatic personality have made Luck the face of this Cardinal team.
With the loss of Toby Gerhart, last season's Cardinal starting running back and Heisman Trophy runner-up (now playing in the NFL for the Minnesota Vikings), the team's heavy running offense from last year is expected to revert to the pass-heavy style that had the school being called "Quarterback U" in its prime.