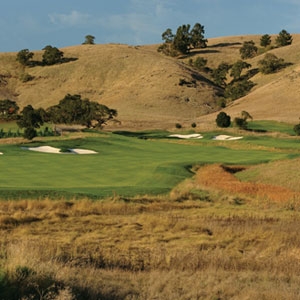 The PGA's best come to Silicon Valley this week to play Corde Valle in San Martin.
With 132 of golf's best headed to San Martin to play in the Frys.com Open, which runs Thursday through Sunday, there is no shortage of story lines.
Former stars John Daly and David Duval will look to unveil some old magic and win at the Fry's.com Open, played this year at CordeValle in San Martin. Recently crowned Players Championship winner Tim Clark has an opportunity to make their 2010 seasons unforgettable. And Troy Matteson will have a chance to defend his 2009 Frys.com Open title.
And then there are the unknowns.
Every field has a few long shots that either played their way into the tournament or received an invite through sponsor exemption. One of those long shots is Isaac Weintraub, a 2004 San Jose State University grad who will be playing in his first PGA Tour event after winning a one-round qualifying event at CordeValle.
"When I think of getting emotional about it, it's more in terms of my friends and family to see me go from a San Jose State player to a struggling Canadian tour pro to now playing a PGA Tour event," the left-handed Santa Cruz native says.