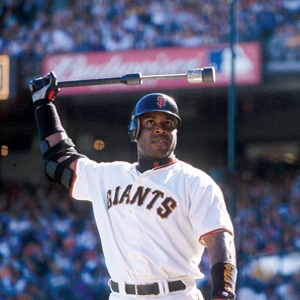 Barry Bonds has come to epitomize the steroid era in baseball.
As Major League Baseball saunters into the final weeks of the season, with the play-offs and World Series looming on the near horizon, the prolific American documentary filmmaker Ken Burns, along with his longtime producer Lynn Novick, has completed a compelling two-part mini-series, The Tenth Inning, that serves not only as an insightful sequel to his 1994 nine-part Baseball, but also provides a compelling and, I would argue, definitive backdrop to the national pastime during the past decade-and-half.
While I have long been a cautious fan of Burns' work since he burst onto the national scene in 1990 with his iconic PBS series The Civil War, I have not been an uncritical worshipper, as have been many in the mainstream American media.
While Burns has forged a remarkable body of documentaries over the last 20 years, much of which has forced this country to re-explore racism in the shaping of its history, his soft-liberalism and unwillingness to take hard stands on a variety issues has led to what historians call a "reconciliationist" view of slavery in particular, and race-relations in general, as opposed to a more "emancipationist" perspective that acknowledges the limits of the "melting pot" model in understanding American history.
Moreover, his cinematic aesthetic has bordered on the tedious. I recently purchased his homage to the National Parks as a way of creating some quality together-time for my family, and while I personally enjoyed the series, it managed to put three generations of viewers in my household to sleep with the very first installment. I had to watch most of it on my own.
Not so with The Tenth Inning. In many ways it's Burns' best film, with a sharp critical edge, faster cutting and a dynamic soundtrack. Indeed, The Tenth Inning is bold from the get-go. It opens with Jose Feliciano's brilliant rendition of the "Star Spangled Banner" cut against footage of young kids in the Dominican Republic playing baseball with sticks and battered balls in the shanty towns of the impoverished Caribbean nation. It is a subtle way in which the filmmakers acknowledge the globalization of the sport in a context of American neocolonialism.