Cupertino Restaurants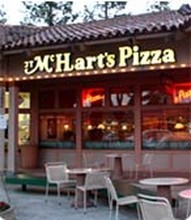 19732 Stevens Creek Blvd, Cupertino, CA 95014

408.255.0500
Italian. Family owned and operated for 25 years, Cupertino's finest pizza restaurant offers up fresh hand spun dough topped with the best cheeses and fresh toppings to create a mouth watering delight. Our dough at J.T. Mchart's is made from an old sour dough recipe, made daily and hand tossed to each order. We prefer our normal thick crust; however, a lighter thin crust is available. At J.T. McHart's we are dedicated to making the world's best pizza!
10330 N. Wolfe Rd., Cupertino CA 95014; Tel. 408.446.2222
Steakhouse. Alexander's Steakhouse is Cupertino's upscale contemporary steakhouse. This restaurant takes pride in modernizing traditional steakhouse fare, creatively weaving in Asian touches to keep the cuisine original and intriguing. The atmosphere is stylish and bright, suitable for everything from power lunches to dates.
19930 Stevens Creek Blvd., Cupertino CA 95014; Tel. 408.996.9606
Mediterranean. Arya Global Cuisine offers a fine blend of Persian, Italian and American food, made with the freshest ingredients and offered in a warm and inviting setting. The perfect spot for a meal with the whole family or an intimate dinner with your significant other—and its fireplace-adorned lounge is even ideal for a corporate function. Enjoy desert and cocktails in-house, or go over the mouth-watering menu for some take-out. No matter the occasion, Arya is one of Cupertino's hottest spots—perfect for every Valley foodie.
20343 Stevens Creek Blvd., Cupertino CA 95014; Tel. 408.257.2383
Italian. Café Torre, a gem tucked away in an unassuming little mall, has a crisp, sophisticated interior. At this Cupertino restaurant, patron loyalty is built both through the warm, congenial hosts and the reliably delicious preparations of great pasta and seafood.
20840 Stevens Creek Blvd., Cupertino CA 95014; Tel. 408.725.0188
Italian, Seafood. For over 20 years, Fontana's Italian has been a local favorite for fresh, from-scratch entrees of seafood, steaks, chicken and pasta. This casual yet attractive restaurant features a great selection of California and Italian wines to complement the menu, not to mention a tempting list of deserts. Start out or round off the dining experience with a few rounds on the bocce ball court.
10030 S. De Anza Blvd., Cupertino CA 95014; Tel. 408.873.1000
Contemporary American. Located in Cupertino's Cypress Hotel, Park Place restaurant brings fine dining to Cupertino in an eclectic, warm setting. Look for an American-centric but far reaching menu that excels in steaks, seafood and inventive salads and soups. Popular cast members on the menu include the Kobe beef tri tip and lobster bisque. Park Place has an attractive heated patio and full bar.
Florentine Restaurant
10275 S. De Anza Blvd, Cupertino CA 95014; Tel. 408.253.6532
Italian. Bold flavors, fresh ingredients and lavish portions. Casual to dressy. Beer, wine.
Loon Wah
1146 De Anza Blvd., Cupertino CA 95129; Tel. 408.257.8877
Chinese. The kitchen produces good wok-centric dishes, but its main draw is fresh, hand-pulled noodles, which are excellent in lieu of regular chow mein. Casual. Beer, wine.
Todai
10123 N. Wolfe Rd. #2001, Cupertino CA 95014; Tel. 408.996.3444
Japanese. Billed as a Japanese seafood buffet, Todai doesn't limit itself to Japanese dishes. Pan-Asian and just plain odd specialties rotate: Baked fish, Cajun crawfish, scallops, snow crab legs, lobster thermidor, fried rice, teriyaki chicken. This is short attention span chain-store dining, when quantity and a parking spot is what you're hankering for.