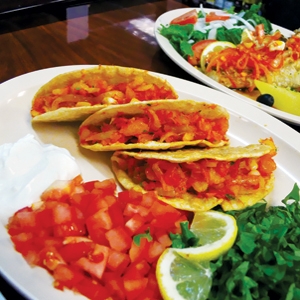 The bacalhau tacos span two cuisines.
When Luis Lourenco was a 12-year-old kid pushing his skateboard down Alum Rock Avenue in east San Jose, the words he heard from every other storefront weren't "Good morning" or "Buenos dias." They were "Bom dia."
The neighborhood just east of Highway 101 was once known as Little Portugal. Depending on what GPS system one uses, the name still turns up on some maps, but today the area might be better called little Michoacan or Little Saigon.
Immigration from Portugal and the Azores has slowed, while immigration from Mexico and Vietnam has soared. While there are still a few businesses that cater to what's left of the Portuguese community and the striking Five Wounds National Portuguese Church still serves the neighborhood, Little Portugal has gotten a lot smaller.
But you wouldn't know that if you walked into Lourenco's Bacalhau Grill and Trade Rite Market. It's as if nothing has changed. The store and restaurant are Silicon Valley's premier outlet for all things Portuguese. As the name implies, the year-old restaurant specializes in bacalao, or salt cod, a versatile staple of Portuguese cuisine.