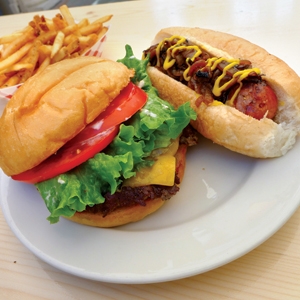 The cheeseburgrer is a rather ignominious symbol of American food. I love a good burger, but given the environmental, social and health costs associated with industrial beef (antibiotic resistant bacteria, E. coli, global warming, brutal working conditions, water pollution and inhumane treatment of animals come to mind) fast food burgers cause me to lose my appetite. But that's changed with the opening of Steak Out in Mountain View.
The Castro Street restaurant serves grass-fed beef. And not just any grass-fed beef. Steak Out is the exclusive retail outlet of Morris Grassfed, a San Juan Bautista-based family run beef operation. Rancher Joe Morris runs cattle in the hills above Watsonville and in San Juan Bautista and is an eloquent spokesman on the environmental benefits of grass-fed beef.
If properly managed, animals that live all their life on grass can help improve the quality of the soil, sequester carbon in the soil, increase biodiversity and even improve water quality. The meat is generally of higher nutritional value as well. Grass-fed beef means you can have your cheeseburger and eat it, too.
Morris was busy selling his meat directly to customers and had no interest in selling to a restaurant, but the owners of Steak Out persuaded him. The restaurant was previously Bodrum Cafe, a Turkish restaurant.