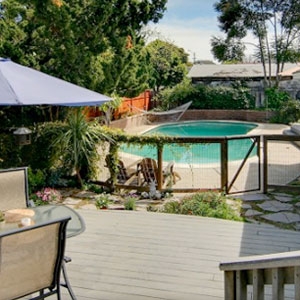 This 100-year-old home, on a 7,550 square-foot-lot, features a fenced yard with a swimming pool.
Founded in 1777, just one year after the United States declared its independence, Santa Clara is one of California's oldest cities. A taste of old Santa Clara can be found in this turn of the century colonial revival home at 1540 Homestead Road, in the Old Quad area. It's a four-bedroom, two- bath house of 1,016 square feet, set in a 7,550 square foot lot, though keep in mind that much of the back yard is taken up by a gorgeous swimming pool.
The house's entryway is off an inviting deck that looks out onto the front yard and the quiet street. For more outdoor privacy, there is a patio in the back, beside the pool. All the rooms are large, bright and airy. There's a formal living room, but also a family room and a separate dining room, and for more informal occasions, a breakfast bar and a breakfast nook.
This is an older house, with plenty of old, established features, including a full-sized country kitchen with bright wooden floors. Downstairs there's a basement with a separate entrance, which can be used for guests or older kids who want a little more privacy.
Yes, the house is a century old, but all the original moulding is intact. It has also been freshly repainted. It's priced at $699,000.