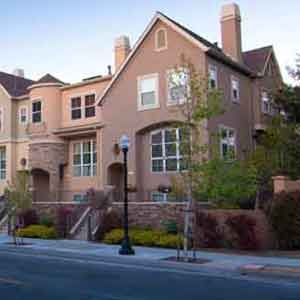 Parkside Villas Townhomes, designed by Barry Swenson Builders, are near Sunnyvale's downtown.
Next year will mark Sunnyvale's hundredth anniversary. Back in 1912, the city was blanketed by fruit orchards and fields of sweet corn—long- since replaced by homes and high-tech campuses. Yahoo, Juniper, Palm, and Nokia call Sunnyvale home, as do Lockheed Martin and Honeywell. If there are jobs to be had in California, they're to be had right here in Sunnyvale.
There are beautiful homes to be had here too, which reflect the suburban nature of the community.
For example, there's a townhouse at 331 South Mary Avenue, located in the back of a carefully tended complex, which offers plenty of privacy with all the advantages of townhouse living. There are three bedrooms and 2.5 baths arranged on two floors, connected by an oak staircase. All the bedrooms are generously spaced, and the master suite is large by any standard.
The fireplace is the centerpiece of the living room, while glass doors lead out to a private backyard. The eat-in kitchen opens up to a patio, and there is extra storage space in the attic. This home is going for just $489,000, with a down payment of $97,800.
For larger families who want to stay within a budget, there's a six-bedroom, three-bath home at 163 West Arques Avenue. At 1,890 square feet, it's a very spacious, two-storey home set off from the street to offer extra privacy. The kitchen and large living room open up to a lovely deck, surrounded by a big back yard, complete with its own koi pond and fruit trees.