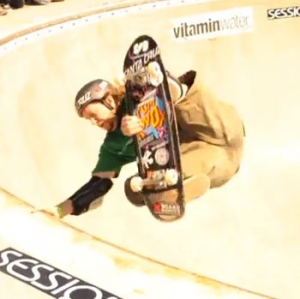 Concrete Cowboys young and old came out to hit the bowls at the 13th Annual Tim Brauch Memorial Skate Contest. (video)
It has been 13 years since the sudden passing of influential San Jose skateboarding legend Tim Brauch, but as evidenced by the 13th Annual Tim Brauch Memorial Skate Contest, Brauch's playful spirit and positive attitude is alive and well, resonating within all those in attendance.
Lake Cunningham Skate Park in San Jose was the site of all the action Saturday, as skateboarders both young and old flocked to the 68,000-square-foot park constructed with smooth concrete bowls and other obstacles.
From legendary names, such as hometown hero Steve Caballero and Christian Hosoi, to up-and-coming youngsters looking to make their mark, skateboarders, their friends and family gathered to commemorate the life and times of Tim Brauch and to witness or participate in some intense bowl skating action.
To many, the contest represented far more than your average skate jam. Joel Gomez, owner of Sessions clothing, the main sponsor of the event, said that the contest is an embodiment of Tim's spirit and contributions to the scene.
"Tim Brauch's spirit was not just about skateboarding, but skateboarding with a good attitude," Gomez said.