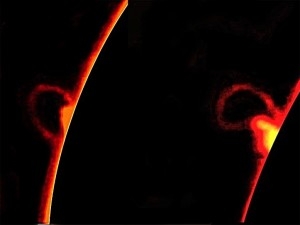 A coronal mass ejection could affect electrical and electronic equipment all over the world.
Back in 1859, British astronomer Richard Carrington reported seeing what is now believed to be the biggest solar storm in history. A cloud of electrons, ions, and atoms escaped the sun's corona and hurtled through space, eventually hitting the Earth. This affected the aurora borealis, more commonly known as the northern lights. For a brief time they could be seen across the continental United States and as far south as El Salvador. The rush of charged particles also affected electrical equipment, though in 1859, this just meant the telegraph. Household electronics were still a century away.
Since then the world has become more "electrified," and the impact of these solar storms, even less severe storms, was more widely felt. Solar flares in 1921 and 1960 affected radio and television broadcasts. A major storm in 1989 caused the collapse of the Quebec power grid in Canada, and led to blackouts for as long as nine hours for some six million Canadians.
There have been countless examples of the impact solar flares have had on everything from communications satellites to short wave radio, but none has been as powerful as the 1859 flare, at least until now.