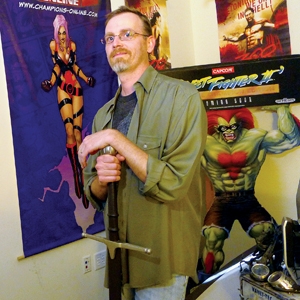 Craig Zinkievich of Los Gatos-based Cryptic Studios says a sale to Perfect World will allow his company to compete effectively in the free-to-play space.
Cryptic Studios makes money making worlds. That is to say, it creates MMOs, shorthand for MMORPGs: massively multiplayer online role-playing games. Built on the Dungeons and Dragons model, this generation of video games theoretically can handle as many players as there are on Earth.
That's just an upper limit. Cryptic does not disclose how many players converge in its virtual worlds. But as an indication of scale, consider Champions Online, Cryptic's superhero game. Locations include Millennium City (a rebuilt Detroit), the desert outside Area 51, Monster Island, the underwater city of Lemuria, outer space, mystical realms and alternate universes. All are well populated with avatars of countless players at all hours of the day and night.
Craig Zinkievich, Cryptic's chief operating officer, admits that managing such vast worlds is a technical challenge. He says Cryptic isn't intimidated though.