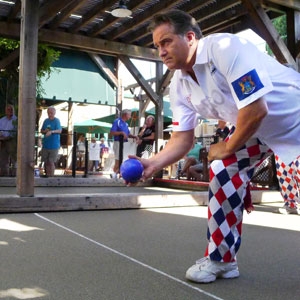 Los Gatos resident Steve Mariucci played for Team Campo di Bocce in the national championships.
Former 'Niners coach Steve Mariucci and sports radio host Tony Bruno kicked off the U.S. Bocce Championships at Campo di Bocce in Los Gatos Monday. For the rest of the week, professional bocce players and aficionados will be on site at Campo as 80 teams from around the country compete for the nation's top bocce title.
The festivities started on June 25 with men's and women's Volo tournaments at Campo's Livermore facilities, and arrived in Los Gatos on June 27. The competition continues this week 8am-6pm and closes with an awards ceremony and dinner event Saturday from 6-10pm.
It was a major coup for Campo di Bocce, which started out as a small family-owned business and has grown to become one of the biggest names in bocce ball in the United States. Since it first opened its doors in 1997, it has hosted several regional, national and international bocce competitions.
Part of the widespread appeal and growing reputation of bocce lies in its simplicity. The game begins when one member of a two-, three- or four-person team rolls the pallina (small ball) out onto the court. The point of the game is to roll the bocce (big ball) as close to the pallina as possible. The team closest to the pallina gets a point for each of its balls that are "inside" the other team's closest ball.
And that's pretty much it.