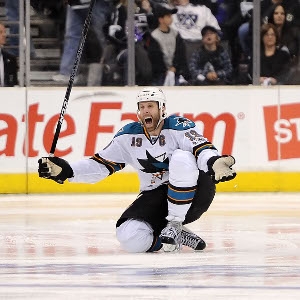 If the Sharks can get past Vancouver, this just might be San Jose's year to bask in the Stanley Cup sun.
The best thing, and really the only meaningful thing about sports—other than helping kids avoid becoming obese—is the manner in which games brings people together for a common goal. Whether it's a group of teammates or fans, sports forge a hope amongst strangers through competition.
In rare instances, teams and the people who come together around them develop an identity. The Chicago Cubs and their fans, for better or worse, are considered lovable losers. The Los Angeles Lakers and their fans often come out on top, which is why the basketball world rejoices when the Lakers fall on their face. In football, the Detroit Lions, my team, has been the definition of a city down on its luck. (And I blame my father for making me a fan of the bums.)
The San Jose Sharks and their fans also have an identity, going from new kids on the block two decades ago to anxious also-rans, making it just a bit farther in the playoffs each season before the trap door gives way. It's getting to be a bit old. And Wednesday's abysmal 7-3 defeat in Game 2 of the Western Conference finals at Vancouver felt a bit like salt in the wound.
San Jose needs the Sharks to win a Stanley Cup and give this city of sprawl a reason to come together in celebration.
It won't change the fact that San Jose's budget crisis is as dire as it's ever been and people's livelihoods are at stake. But a Stanley Cup would be a reprieve and rallying point for a city that often comes across as a cloud of communities (we see you Campbell, Santa Clara, Sunnyvale, Cupertino, etc.). Ask anyone in San Francisco if the Giants' World Series was meaningless to the morale of the city you'll have your answer.