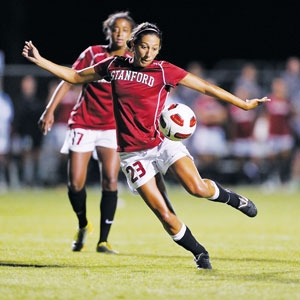 Christen Press has set her sights on a national championship.
After winning a championship with her club team when she was in the eighth grade, Stanford soccer star Christen Press had an epiphany.
"That's when I realized I didn't have any limits to what I can dream."
Now the Stanford all-time leader in points and goals, Press, head coach Paul Ratcliffe says, should shoot for the stars. "There are no limits to what she can do in women's soccer," he says. "She's an incredible player, and she can definitely go on to play professionally. The national team should definitely be looking at her for the future. That's how talented I think she is."
Press broke Sarah Rafanelli's Stanford points record in the Cardinal's 2-1 win against then–No. 3 Portland on Sept. 25. She then broke Rafanelli's goals record in Stanford's 2-1 victory against USC on Oct. 8. "It's rare to find a player who's so good at play-making and also has the ability to score great goals," Ratcliffe says.
Press says that before she came to Stanford she dominated the competition individually. She says the transition to playing college soccer at Stanford helped her become the play-maker that coach Ratcliffe boasts about. "Basically every aspect of my game has improved in terms of physical strength, shooting, runs off the ball and learning to play with my teammates," the senior forward says. "That's a big one because I think in club I was pretty individual, and now I'm learning the importance of playing in a front line as part of a group attack."