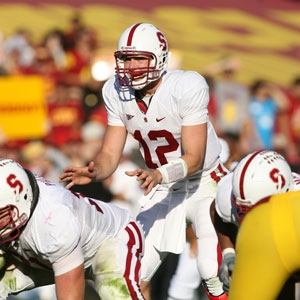 Andrew Luck led Stanford to its first victory at the Rose Bowl since 1996.
At Long Last: Stanford Over UCLA
There was no luck involved in Stanford's 35-0 thrashing of UCLA. Okay, besides Cardinal quarterback Andrew Luck, who threw for 151 yards and two touchdowns. The win was Stanford's first at the Rose Bowl since 1996. Next up for the Cardinal is Wake Forest. Stanford (2-0) will look to exact revenge on the Demon Deacons, who scored with two seconds left capping a come-from-behind 24-17 victory to beat the Cardinal last season.
Slow Start for the Spartans
To no one's surprise, the Spartans were blown out in their first two games against Alabama and Wisconsin. The scores (48-3 and 27-14) and the stats (994 yards allowed combined) were ugly. But it's too soon to declare the season lost. State plays Southern Utah at Spartan Stadium next week. A win would mean a lot to new head coach Mike MacIntyre.