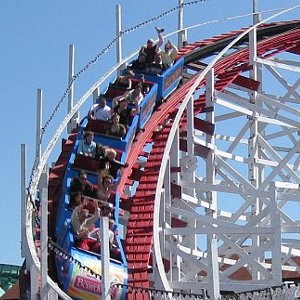 The Giant Dipper, a classic wooden roller coaster at the Santa Cruz Boardwalk, first opened in 1924.
Amuse Yourselves
There's a reason roller coaster cars have two seats. Amusement parks were practically invented for cozying up, dating back to the Coney Island days when rides were constructed with little other purpose than to give passers-by a glimpse of ankle, or a lady a reason to clutch a firm shoulder. Set aside a warm evening to capitalize on the coziness with a trip to the Santa Cruz Boardwalk for good-old fashioned fun, or Great America for higher-octane thrills.
Shot Through the Heart
Nothing says romance like stomping around a dark room whilst cradling a heavy piece of plastic machinery in your arms. Often the domain of 8-year-old boys' birthday parties, laser tag can also be adapted into a more intense, paintball-type experience if you do it right. Laser Quest in Mountain View is about the last laser tag establishment in town, and boy does it deliver, with a sprawling playing field and no-holds-barred 30-minute group games. Laser Quest is open until the very adult hour of midnight, and if you come late enough, chances are you won't be the only ones there with driver's licenses.
Improvise
One way to loosen up around someone is to dive headfirst into improv. Though terrifying at first, improv can be a good way to get yourself acquainted—very acquainted—with someone you like spending time with. Comedysportz in downtown San Jose and Made Up Theatre in Fremont offer fairly priced 8-week classes, but if you're not ready for that kind of commitment, check with your local community center for one-time workshops.
Go Retro
If you must do dinner and a movie, you might want to substitute the Retro Dome for the megaplex. Situated on the outskirts of a mid-sized shopping mall, the Retro Dome specializes in old, obscure, or cult-appreciated films, so they always have a good, weird selection to choose from. Pick a film that neither of you have seen before, or watch an old favorite on the big screen. For dinner, there's a plethora of eateries just across the street.
Get Cooking
Cooking classes are a good way to ease committed couples out of routine, scheduled date nights and into more adventurous territory. There are a shocking amount of cooking classes and workshops throughout the valley, tailored to every level of experience and interest, from the basics to fusion to cake decorating. Sur la Table in Los Gatos is a good place to start, with expert instruction from authors and cooks, and, yes, a weekly date-night program.