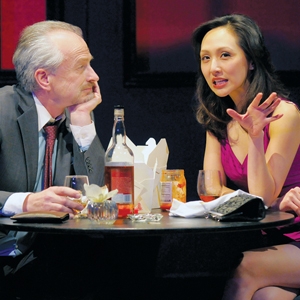 J. Michael Flynn portrays a wealthy tycoon on the hunt for a trophy wife.
Playwright Philip Kan Gotanda has won acclaim for depicting the Asian-American experience in plays like After the War and Sisters Matsumoto, which deal with the aftermath of the Japanese-American internment, and his recent I Dream of Chang and Eng, which chronicles the lives of the famous "Siamese Twins."
Gotanda's latest work, now at San Jose Repertory Theatre, is something of a departure for him. Love in American Times could be described as a romantic comedy, though not of the Hollywood mold—it doesn't really follow the standard "boy meets girl, boy loses girl, boy finds girl again" progression, and secondly, neither the boy nor the girl is very likeable.
J. Michael Flynn plays Jack Heller, a wealthy tycoon who is looking for a beautiful woman to marry. Linda Park, who played Hoshi Sato on Star Trek: Enterprise, steps into the role of Scarlett Mori-Yang, a social climber trying to attach herself to a rich, powerful man. In the first act of the play, the two sit together in a fancy restaurant sipping wine, eating cheese and coolly sizing each other up, leading us to wonder if this might be a business meeting rather than a date.