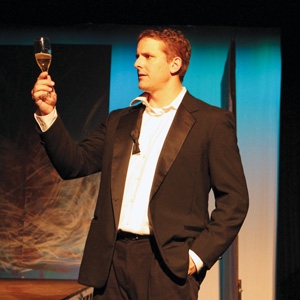 Toast of the Town Ty (Keith C. Marshall) in 'All This Intimacy'
Rajiv Joseph's All This Intimacy was not well received when it opened in New York four years ago, especially compared to works such as Bengal Tiger at the Baghdad Zoo, which made Joseph a Pulitzer Prize finalist.
However, for its West Coast premiere, directed by Caitlin McGarty at Renegade Theatre Experiment, All This Intimacy emerges as an enjoyable tragicomedy as well as a necessary story, reminding us that we all have the capacity to commit very big, life-altering blunders.
The play's drama springs from a fateful mistake—or rather, three mistakes—made by Ty Greene (Keith C. Marshall), a teacher and successful poet. In a week's time, he impregnates three women: his ex-girlfriend Jen (Xanadu Bruggers), his middle-aged neighbor Maureen (Michelle Bellaver) and his young student Becca (Sara Luna).