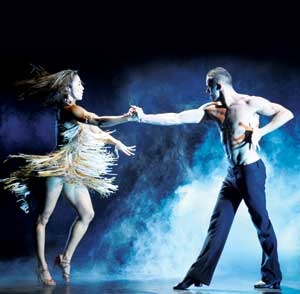 Broadway San Jose heats up the Center for the Performing Arts with 'Burn the Floor.'
Silicon Valley residents can count themselves lucky to be surrounded by leading theater companies. Here's a roundup of the fall's most promising theatrical productions.
Palo Alto's TheatreWorks provides a transition into the fall season with The Light in the Piazza (Aug. 25–Sept. 19), a musical romance set in Italy. The play is notable for Adam Gretel's adventurous, Tony Award–winning score, which has more in common with classical music and opera than with traditional show tunes.
This production will feature a five-piece chamber orchestra and a cast singing in both English and Italian. A show of this level of sophistication will be in good hands with artistic director Robert Kelley. "He's particularly good at taking those large, grand-scale musicals and making sure they still have a really intimate, emotional appeal," says casting director Leslie Martinson.Next up at TheatreWorks will be Superior Donuts (Oct. 6–31), a warm and humorous play from the Pulitzer Prize–winning author Tracy Letts. The play focuses on a run-down Chicago donut shop, an aging manager and an ambitious young employee who wants to reinvigorate the business. "It's very much a play about what happens when a hopeless guy meets a guy with nothing but hope," says Martinson.