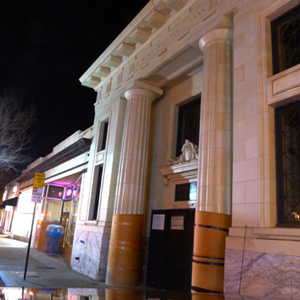 The Gaslighter Theater in Campbell will continue to be closed as the city searches for a new project for the building. (Photo by Felipe Buitrago)
The Gaslighter Theater in Campbell will remain dark, for now. Campbell's City Council voted 4-1 on Tuesday to deny an appeal put forward by Melodann, Inc., which had hoped to convert the historic building into a night club named Dasha.
The city's Planning Commission unanimously rejected Melodann's application last fall but the restaurant/club operators pushed forwrd in the hopes of saving the project. The original plan was to convert the theater, which was a bank in the 1920s, into a ritzy nightclub on the scale of Tao in New York or something to be found in a Las Vegas casino. When that hit the wrong note, Melodann scaled back the project to resemble some of the nicer nightspots at Santana Row in San Jose, but even that didn't appease the council.
"I think that this proposal as it's currently planned amounts to a large scale experiment that we cannot afford in our downtown," Councilman Jason Baker told the Mercury News.
With no other projects on the horizon, the Gaslighter is now entering the sixth year since it closed.