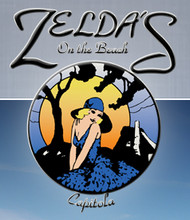 Zelda's
Where

203 Esplanade, Capitola , CA

Call

+1 831.475.4900

Web

Tags
About
Zelda's restaurant is located at 203 Esplanade in the heart of Capitola village. We are located on the beach with spectacular views of the Monterey Bay and Capitola wharf.

Zelda's restaurant has been serving local customers as well as others from all over the world for the past 31 years. We offer indoor and outdoor dining with a beachfront deck where you can literally reach and touch the warm sand of Capitola beach. We serve breakfast from 7:00 am to 11:00 am 7 days a week. Lunch is served from 11:00 to 3:00 pm Monday through Friday, and we offer a fabulous brunch on Saturday and Sundays from 11:00 am to 3:00 pm. Dinner is 5:00 pm to 10:00 pm nightly.

Featuring an espresso bar for your mornings, with Lobster and prime rib specials for dinner, come and join us at Zelda's where the locals meet for the best breakfasts, lunches, dinners and cocktails. We guarantee you a great meal, wonderful drinks, and friendly service that will make your visit to Capitola village a slice of heaven.



--------------


The only beachfront deck in Capitola hosts live music outside in the summer that moves inside once the weather turns cold. Along with good food and a great breakfast, Zelda's has a dependable bar crowd and plenty of space, despite not having beer on draft. DJs are the norm for Friday nights. Saturdays are usually live bands.
Twitter
Great bands ever Friday and Saturday night at Zelda's! Check our website or Facebook to see who's playing!
Win a Win a VIP Experience to Big Gigantic Rowdytown from http://t.co/J3wSfsqS4l from Thissongissick http://t.co/2rwCP3l8Tg
Great Live Music coming to Zelda's this Spring and Summer! Our full summer lineup will be posted soon!