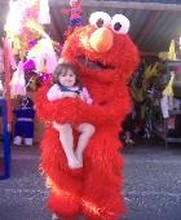 UsBestStore.com
Where

5535 Greeley Pl, Fremont , CA

Call

510.400.8482

Contact

Web

Tags
About
CHILDREN BIRTHDAY PARTY CHARACTERS!
Make Your Child's Birthday Party a real special one!

Choose a Character (of your choice) plus a Clown /fairy/ Magician will thrill your child and guests. They will guide the group and sing, dance to their characters' most popular music, Cool Games, Great Balloons twisting (animal shapes), Small Toys for Kids, Awesome Magic for kids, with time for lasting photos!

FACEPAINTERS, CLOWNS, MAGICIANS, BALLOON ARTISTS

CALL 510-400-8482

Your child will cherish this gift forever as memories last a lifetime. An marvelous day of fun with our entertainers.

· SUPER FUN AND POWER ENERGY ENTERTAINMENT FOR KIDS AND ADULTS
· WE ARE NOT BORING OR PASSIVE ENTERTAINERS, WE ARE ENERGY!!!

WE SERVICE THE BAY AREA: SAN JOSE . FREMONT . SAN FRANCISCO . REDWOOD CITY . SAN MATEO . SANTA CLARA. GILROY . LIVERMORE . SOUTH SAN FRANCISCO . HAYWARD . OAKLAND . MILPITAS . SUNNYVALE . and more cities…

*********************************************************************
CHILDREN BIRTHDAY PARTY SHOWS IN SPANISH- ESPANOL

UN SHOW INFANTIL CON PERSONAJES (MONITOS) SUPER GIGANTES QUE SE PARECEN A LOS DE LA TELEVISION, EL CUMPLEANOS DE SU HIJO (A) SERA GRANDIOSO E INOLVIDABLE.

SHOW DE ENTRETENIMIENTO PARA TODA EDAD DE NIÑOS SUPER GLOBOS ( BALLOONS) DE FIGURA

SUPER RONDAS Y SUPER JUEGOS
SUPER MAGIA QUE ENCANTARA A LOS NIÑOS
PREMIOS Y BAILES CON LOS PERSONAJES DE TELEVISION
MUSICA , SONIDO DJ Y ANIMADORA " MUNECA" INFANTIL
CANTOS Y ALEGRIA
CONCURSOS: de acuerdo a la edad del pequeño.
PREMIOS Y OBSEQUIOS: relojes de pulsera, juguetes, globitos, etc.
GLOBOS; De espadas, perritos, ositos, corazones.