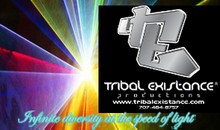 Tribal Existance Productions Worldwide High Power Lasers & Lighting Services
Where

1792 PO box, Rohnert Park , CA

Call

+1 707.484.8757

Contact

Web

Tags

Hours

Mon-Fri (12pm-6pm)
Sat-Sun (n/a)

About
Spectacular High Power Laser Light Show Rental Equipment & Professional Lighting Production Design Services. We provide professional quality innovation as part of our Worldwide custom production services. We specialize in extremely powerful laser systems that range from 2 - 80 Watts of Spectacular Aerial Laser light show presentations and rental production services provided for almost any Venue style or location custom designed for almost any type of event theme, concert, tour, award shows, fashion show event services, film special effects, corporate events, laser show displays, Holiday events, theme park event services, company laser logo display projections, product or brand marketing presentation effects, television commercial effects, convention services, custom trade show booth laser lighting special effects, exposition design production services, motion picture special effects, laser text lettering, laser advertisement, laser entertainment and special effect animated graphics. We also provide extreme animated lighting packages, theatrical lighting wash, film shoot set effect designs, gaffer services, sound stage laser effect and motion picture set laser & lighting production services provided for many international locations.
-
More information: +1-707-484-8757 - Offices
-
Tribal Existance Productions Worldwide
http://www.tribalexistance.com
[email protected]
[email protected]
Hours - Mon-Fri-12PM-6PM-PST-USA
-
We Specialize in the WOW Factor !!
-
Facebook Fan Page Link: Please Like Our Page !!
http://www.facebook.com/pages/Tribal-Existance-Productions-Worldwide-Laser-Light-Shows/158087515942
-
San Francisco Bay Area CA, South Korea, Santa Rosa CA, Hong Kong SAR of China, Redwood City CA, Niles IL, Petaluma CA, Cotati CA, Rohnert Park CA, Redding CA, Stockton CA, Palo Alto CA, Healdsburg CA, Black Rock NV, Sparks NV, Sacramento CA, Bloomington IL, Normal IL, Chico CA, Jacksonville FL, Memorial Beach, South Beach FL, Hamptons, Hawaii, Kawaii, Texas, New Mexico, Denver CO, Aspen CO, Michigan, San Jose CA, Napa Valley CA, Salt Lake City, UT, Las Vegas NV, Reno, NV, London, England, Los Angeles CA, New York City NY, Miami FL, Costa Rica, South America, Nelson BC, Vancouver BC, Brazil, Russian Federation, Asia, Vietnam, United States, Canada, Seattle WA, Hayward CA, Mountain View CA, Concord CA, Phillipsburg NJ, Easton NJ, Trenton NJ, Hershey PA, Dallas TX, Chicago IL, Belfast & Dublin Ireland, Paris France, Alaska, California, Wilmington North Carolina Film Set, Portland OR, Idaho & many International locations from around the Globe.