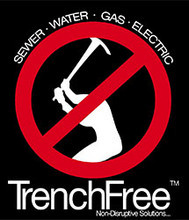 TrenchFree
Where

2040 S. 7th St. Ste. 300, San Jose , CA

Call

+1 408.726.7926

Contact

Web

Tags

Hours

Mon-Fri (7am-5pm)
Sat-Sun (Closed)

About
Repair and replacement specialists for underground piping systems, broken pipes, burst water mains and clogged sewer lines.

TrenchFree is a leader in trenchless plumbing and replacement of sewers and water mains. We will perform a free video camera pipe inspection to search for burst pipes or other problems within your water main.

TrenchFree Trenchless Plumbing use advanced equipment to save you money and to avoid digging trenches or tearing up the beauty of your home's sidewalks, patios, driveways & plantings.

Our specialties include:

• Nondisruptive Replacement of Water Mains & Sewer Lines
• New Water Main and Sewer Line Installation
• Electronic Leak Detection
• Pipe lining
• Pipe bursting
• Free Video Pipe Inspection
• Sewer Backups Cleared
• Full Service Plumbing
• Fast Emergency Repairs
• Free Consultation & Estimate From Water Meter to House With a Lifetime Guaranty!


JD Plumbing • Fully Insured & Bonded • License #896321

Call us for a free on-site consultation and estimate.


Twitter
AWWA Calls for Revisions to the Lead and Copper Rule #TrenchFree #Trenchless #NoDig https://t.co/bt0iIghoRI
TrenchFree™ Trenchless Plumbing is the Bay Area's expert in helping homeowners replace sewer lines without costly,… https://t.co/UXX9eTnfR7
Who is #TrenchFree? We are the Leading experts in Underground #Trenchless Technology. Rehabilitate your Outdoor… https://t.co/GfvNcRex28