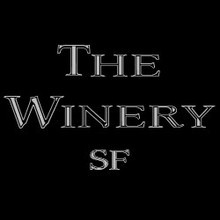 The Winery SF
Where

200 California Avenue (on Treasure Island), San Francisco , CA

Call

+1 415.735.8423

Contact

Web

Tags

Hours

Mon-Fri (ByAppt)
Sat-Sun (12pm-5pm)

About
The Winery SF is San Francisco's Winery, Tasting Room & Event Center. Enjoy distinctive wines produced right in San Francisco from highly acclaimed Sonoma and Napa Valley winemakers. Producing hand-crafted wines in a traditional, old-world manner, The Winery offers a large number of boutique wines, creating an unforgettable wine experience for individuals, groups, and guests of San Francisco.

The Winery brings the "California wine experience" to San Francisco. The Winery's 20,000 sq ft winemaking facility allows visitors to see the winemaking process first-hand and experience highly rated boutique wines from a team of top winemakers from Napa, Sonoma, and beyond. From tours, to private events, to full-day meetings or conferences, The Winery is the perfect place for you and your guests to experience California Wine Country right in San Francisco!

Open Daily
Group Tours & Tastings by Appointment

THE WINES:
The Winery brings together a team of highly acclaimed winemakers from Napa, Sonoma and beyond to produce handcrafted artisian wines. Watch our winemaking team in action from either our tasting room & bar on the crush pad floor or our tasting room and balcony overlooking the entire winery! Sample highly rated wines and enjoy the complete wine experience right in San Francisco. Enjoy wines only available at The Winery and take your wine experience home in a bottle to share with friends & family!

THE WINERY:
Whether you come by car, bus, or boat, enjoy the waterfront scenery with some of the most spectacular views in San Francisco. Inside the winery, take a tour and learn first hand the winemaking process. Taste wine in one of our tasting rooms or throw a private party in one of our meeting rooms overlooking the winery. Experience the winemaking process first-hand and sample wines still in the barrel. The Winery offers a truly unique wine experience right in the city of San Francisco!

THE EVENTS:
The Winery is also San Francisco's venue for Weddings, Meetings, Seminars, Training, Conferences, Team Building, Private Parties, Charity Events, Holiday Parties, Winemaker Dinners, Wine Club events and more.

Weddings
In a beautiful setting along San Francisco's waterfront with breathtaking views, The Winery offers a distinctive setting for both a wedding ceremony and reception for up to 400 people.

Corporate & Group Functions
The Winery also services group and corporate functions for meetings, seminars, team-building, training, and conferences in our 20,000 sq ft facility with several meeting rooms, high speed internet, and full audio / visual services.

Private Parties
The Winery offers a one-of-a-kind urban setting for private events, corporate parties, winemaker dinners, art exhibits, release parties, holiday parties, and more.

Charity Events
The Winery is the City of San Francisco's newest venue to host charity fund-raising events in a real winery setting.