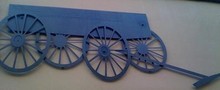 The Old Wagon Saloon and Grill
Where

73 N San Pedro St, San Jose , CA

Call

408 9719346

Web

Tags

Hours

Mon-Sun (11am-2am)

About
For a casual hangout, this Western-style bar is in the heart of downtown San Jose. It's home to a no-frills drink menu, but the large patio is the main attraction, hosting hundreds of people on any given weekend.

There is nothing old about the Old Wagon Saloon. Inside everything is shiny and new, and the high ceilings give the whole place a very open feel. Flat-screen TVs litter the walls, just like back in the days of Jesse James, so that a plethora of sports can entertain those that don't want to be social.

2009 BEST OF SILICON VALLEY Reader Survey Winner - Second Place, Best New Bar

2009 BEST OF SILICON VALLEY Reader Survey Winner - First Place, Most Bizarre Game to Get Macho About
There's testosterone, and then there's testosterone's even stupider chemical cousin, whatever it is, that makes guys care about winning a game usually played by Viagra-crazed old men in atrocious Hawaiian shirts on cruise ships. If you have ever seen a jock pump his fist or yell booyah! while playing indoor shuffleboard at the Old Wagon Saloon, you know what we're talking about. Here's a tip, though: when one of them offers to play you for money, take them up on it. They suck.