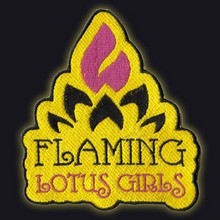 The Flaming Lotus Girls
Where

The Box Shop, San Francisco , CA

Call

+1

Contact

Web

Tags
About
The FLG create monumental works of interactive art. Based in San Francisco, the volunteer organization combines sculpture, kinetics, robotics, pyrotechnics, and electronics to inspire and incorporate viewers into the experience of their work.



~~~~~We are pleased to announce that we are bringing SOMA to SF's Pier 14 this spring. Built of stainless steel and LEDs, the sculpture will remain on the pier for a year.~~~~~

SOMA INFORMATION http://somapier14.org/





SOMA artistically represents the communication between two neurons, signifying the neuronal flow of electricity that forms the foundation of consciousness from a molecular to a monumental scale. The installation will remain at the Pier 14 Plaza for one year's time, with a stunning backdrop that includes the Bay Lights and the San Francisco waterfront.

Twitter
Join the Flaming Lotus Girls on Feb 8th for a dance party and art show. Meet some of the FLG crew that make their i… https://t.co/ydLduGy8GP
Scale explorations.... 🦎🐊🐉💚 📷 Margaret #flaminglotusgirls #artcollective #community #burners #metalart #fineart… https://t.co/g75IlPa26Z
Big things are afoot for July! 🛢🛢🧰🛢 📷 Margaret #flaminglotusgirls #artcollective #community #burners #metalart… https://t.co/zwHrBUv5EP