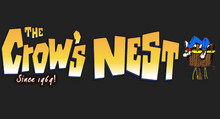 The Crow's Nest
Where

2218 E Cliff Dr, Santa Cruz , CA

Call

831 4764560

Contact

Web

Tags
About
Since 1969, The Crow's Nest Restaurant in Santa Cruz, California has featured award-winning food, spirits & live entertainment from one of the most spectacular waterfront views on the Monterey Bay.

Weekday lunches and nightly dinners in our downstairs dining room offer fresh seafood, pasta, Midwestern aged beef and daily chef's specials. The upstairs Breakwater Bar & Grill offers a variety of appetizers and casual lunches throughout the day.

The Crow's Nest also offers live music and comedy featured weekly, a perfect compliment for your fun night out.

Twitter
Wednesday Evening Sailboat Races - Still running, still spectacular! 5:30pm. All-nite Happy Hour, live entertainment.
Every Tuesday! Lobster Tail, rice pilaf, hot vegetable, succulent view: $24.95. Lunch and dinner.
Upstairs $9.95 Deal with a View dinners. Monday - Friday from 6:00pm. Next time you're hungry, check it out!