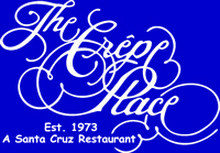 The Crepe Place
Where

1134 Soquel Ave, Santa Cruz , CA

Call

831 4296994

Web

Tags

Hours

Mon-Thu (11:00am-12:00am)
Fri (11:00am-1:00am)
Sat (9:00am-1:00am)
Sun (9:00am-12:00am)

About
Gary and Marlene Keeley opened the Crepe Place in February 1973, in a small building at the corner of Ocean St. and Soquel in Santa Cruz. The restaurant was so tiny that only ten people, if they were close friends, could be seated at one time. The food was unique to Santa Cruz; few had heard of crepes, fewer still had enjoyed them. But, word spread quickly, and soon the Crepe Place had outgrown its tiny home.

In the summer of 1974, the Keeleys moved their growing business downtown next to the town clock, sharing a building with the United Bar. After the United Bar closed a few years later, the Crepe Place took over the entire space, which featured the cooks working in full view of the guests. But, on Christmas Eve 1988, a fierce storm undermined the shale cliffs of the old San Lorenzo River banks that hovered behind the building, and tons of rock came crashing down. Suddenly, The Crepe Place was out of business.

The Cooper House, the old courthouse on Pacific Avenue, came to the rescue and a sparkling new Crepe Place opened late June 1989, where it stayed until the famous Loma Prieta earthquake destroyed the Cooper House and most of downtown.

Fortunately, a two story Victorian on Soquel Avenue was vacant and, with a lot of work (most of it donated), the Crepe Place re-opened in March of 1990 in the heart of Midtown Santa Cruz. The 100-year-old, multi-roomed building with a garden oasis was the right fit for the restaurant's eclectic décor and unique fare.

When Gary Keeley decided to retire in May 2007, the Crepe Place changed hands for the first time. He passed the baton to three longtime friends, who are continuing the Crepe Place tradition of great food and drinks in a relaxed and funky atmosphere.

Under new ownership for the past 7 years, the Crepe Place has a renewed energy, and the owners are working hard to keep things the same, but with a different edge. With the Crepe Place's spirit and foundation cemented in over 40 years of continuous business in Santa Cruz, the restaurant's long-time customers can expect to enjoy the same delicious food that's kept them coming back for years.

The Crepe Place has also reinstituted the late night hours that made us famous as one of Santa Cruz's best late night eateries. Swing by for a cocktail or late night dinner from our full menu anytime until Midnight Sunday-Thursday, 1am on Friday and Saturday.

The Crepe Place is the same place you've loved for years, only better. Join us for drinks, dinner, Sunday brunch, or a fun evening of great food and entertainment. We hope to see you soon at the Crepe Place!