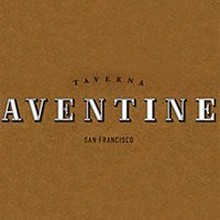 Taverna Aventine
Where

582 Washington Street, San Francisco , CA

Call

415.981.1500

Web

Tags

Hours

Mon-Tue (11:30am-10pm)
Wed-Thu (11:30am-12am)
Fri (11:30am-2am)
Sat (8:30am-2am)
Sun (Closed)

About
Happy Hour: 3pm-7pm (weekdays)
Lunch: 11:30am - 2:30am (weekdays)

Aventine goes to great and elegant lengths to pay homage to ye olde days. The co-owners (Vintage 415, the guys behind Mamacita and Umami; and Gian Paolo Veronese, who also owns the Acqua di Roma spa down the street) painstakingly renovated this 150-year old former opium den into a mixture of half-history, half-gorgeous. The espresso-hued floors and bar are made from onsite reclaimed wood, and the exposed brick walls of the downstairs bar are stained with water marks from when the San Francisco waterfront came right up to Washington St.

Knowing what to expect from Taverna Aventine, and when, is key to enjoying the place. The vibe can be completely different depending on the day: most times it's a chill place to catch up with friends, but on Thursdays and Fridays it's a deafening, standing-room crush of suits. And don't let the "taverna" appellation mislead; although the bar serves lunch and upscale bar noshes, it's not really a dinner destination (kitchen open M-F until 8). Same goes for the "Aventine" moniker; the Aventine neighborhood of Rome is reflected more in the giant etching-like motif the wall, rather than on the menu.

Drinks and a clubby, pirate-y ambiance are the thing at Aventine (especially in the downstairs bar flanked by the old 1800's waterfront wharf wall, which runs rough and exposed along one side). However, those thirsty for a beer will be disappointed by the ho-hum selection. The cocktails are tasty, but they don't rival places like Alembic, Bourbon & Branch, or Beretta, lacking the hand-pressed, house-infused ingredients.

Yet, Aventine certainly has its draws. Aside from the swank and storied surroundings, the happy hour (M-F, 3-7pm) offers substantially discounted libations, and for a touch of exclusivity, devotees can rent a private booze locker. By collecting Aventine's leather coins (a practice borrowed from Gold Rush saloons) with each round, patrons will find that every fifth happy hour drink is free -- a welcome bonus for those who enjoy imbibing drinks infused with history.