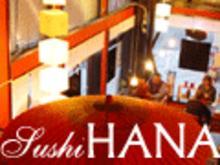 Sushi Hana
Where

800 Van Ness Ave, San Francisco , CA

Call

1.877.529.8583

Contact

Web

Tags

Hours

Mon-Fri (11am-10pm)
Sat (5pm-10pm)
Sun (11am-10pm)

About
For the best Sushi in San Francisco, visit Sushi HANA!

Sushi HANA has a special promotion of 50% off any appetizer (1 per table) if you mention this ad on SF Station.

If you have never eaten Sushi, you will probably be surprised at how delicious it is. Sushi has a nice, light taste that leaves you satisfied.

When most people hear the word, "Sushi", they immediately think of raw fish. In truth, dishes made with raw fish are called "Sashimi". What defines Sushi is any dish made with vinegar rice, which may or may not include raw fish. Most often, Sushi will consist of various types of shellfish such as crab or lobster, or cooked fish along with other fresh ingredients wrapped tightly inside the sticky vinegar rice.

The popularity of Sushi is greater now than ever. People are much more health conscious and enjoy the fact that Sushi is low fat and loaded with nutrients. For instance, a typical serving of Sushi consists of 8 to 10 pieces, which is around 350 to 400 calories. Because of the fish, Sushi is high in protein and an excellent source for Omega 3 fatty acid. From the seaweed used in Sushi along with the rice, this food is also rich in iodine and complex carbohydrates.

Sushi HANA offers a pleasant, modern Japanese atmosphere, good music, and a large variety of special rolls with the best prices in town. We also feature a premium sake selection to compliment your sushi dining experience.

Try our Sake sampler for a little taste of the best sake available for your Sushi.

Great location in San Francisco, on Van Ness Ave., just a few blocks up from City Hall and the Civic Center.

Plan your next party in our spacious private banquet room.

We hope to see you soon at Sushi HANA!