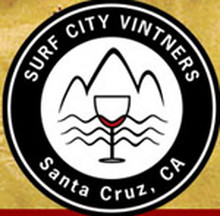 Surf City Vintners
Where

402 Ingalls Street, Santa Cruz , CA

Call

408.353.2278

Contact

Web

Tags
About
The Surf City Vintners collective of micro-boutique wineries, numbering a dozen, has made Santa Cruz a vibrant mecca for wine tasting. An urban renewal project has turned former warehouse space into a hip, trendy destination. The individual wineries are in close proximity on the Westside of Santa Cruz on Ingalls Street, in the Swift Street Courtyard. Meet and talk with the winemakers!

Twitter
RT @WineStarr: Rain or shine Santa Cruz Mountains Vintners Fest is a GO! http://t.co/VRzMxXG via @examinercom
@JerryStarr Thanks for the mention! We can't wait to see what the students have done this year! http://bit.ly/jAbH1b
@JerryStarr Thanks for the RT!