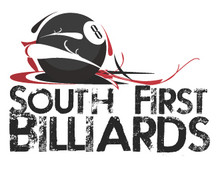 South First Billiards
Where

420 S. First St, San Jose , CA

Call

+1 408.294.7800

Web

Tags
About
Located in the beating heart of downtown San Jose, South First Billiards is a perennially popular spot for nightlife shenanigans. Few San Jose entertainment destinations offer the appeal and diversity of South First Billiards. By virtue of its size and smart layout that includes ample seating for large groups as well as more intimate seating, this massive venue can be at once both a low key spot where friends can enjoy each other's company with a few cocktails over rounds of pool and a lively nightspot boasting live music, DJs and sports-drenched TV screens (including a 20-foot screen that shows everything from the World Cup to the NHL Playoffs). Also, being an all-ages destination means that even the under-21 set can still enjoy a slice of the nightlife scene.

Live Music, a Full Bar and Tasty Food
Many of the people that wander in to South First Billiards never even make it as far as the pool tables. With a chill lounge area, a friendly barkeep that pours the drinks strong and an events calendar full of DJs, karaoke and live music, South First Billiards has no trouble keeping up with the ever-demanding nightlife crowds. The weekends almost always promise top live local bands and some of the best DJs in the San Jose music scene, and on select nights opportunities abound for karaoke junkies aching to belt out their best renditions of Sweet Child of Mine or Total Eclipse of the Heart.

One of the best parts about South First Billiards is the lengthy menu of libations and delicious food to keep crowds happy as they check out the music and enjoy rounds on the pool tables. This San Jose nightspot features 12 micro and premium beers on tap, as well of a list of specialty cocktails like the Strawberry Truffle Martini, the Bailey's Mint Chocolate Martini and the impossibly delicious Chocolate Cake Shooter.

29 Pool Tables, Games and Works from Local Artists
South First Billiards boasts 29 excellent billiards tables, a range of video arcade games and ping pong tables over 14,000 square feet of high-end space in downtown's South First Area (SoFA), making it a prime destination for late night games with friends or even unwinding after a long day with an icy happy hour brew and a few stress-relieving rounds.

Augmenting the cool and casual atmosphere of this downtown San Jose billiards bar are works from the Bay Area arts scene. Acting as a continual art show, South First Billiards is proud to rotate unique collections from local artists to support the scene and local community. This also gives both drinkers and pool sharks snazzy eye-candy to gaze at while catching the band or plotting their next shot.

Private Parties and Group Events
If you're looking for a top-notch venue for a VIP event, a birthday party, a San Jose bachelor or bachelorette party, or even a business party for employee appreciation, South First Billiards might be the perfect place. Open to events year round, this San Jose event venue welcomes hundreds of corporate and private parties and impresses with full catering options for up to 300 people and private areas where interlopers are kept at bay.

---------------------------------

South First Billiards has made moves to change its look and crowd over the years, which is all fine and good. But for a lot of SoFA regulars, it's still just a cool little spot to get a beer and shoot some pool. The tables are sleek and plentiful, and they have ping pong now, too. For the lounge experiences, there's, well, a lounge, for starters, as well as upscale cocktails, DJs and sometimes live music. -- Metro Bars & Clubs, June 16, 2010

2009 BEST OF SILICON VALLEY Reader Survey Winner - First Place
Best Place to Play Pool

With a full restaurant, a chill lounge, 29 pool tables and musical entertainment, South First Billiards has raised the proverbial bar on pool halls. Between shooting a few decently priced games, patrons can wander into the dimly lit lounge area to grab a few brews or cocktails and to check out whoever happens to be on the stage that night, be it a DJ, a live local rock band or some yahoo belting out karaoke tunes. A continual art show rotates unique collections from local artists throughout this 14,000 square foot venue, adding a bit of trippy eye-candy for drinkers and sharks to gaze at when not planning their next shot.