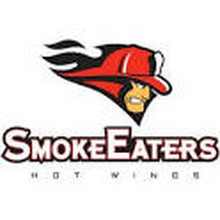 SmokeEaters
Where

29 S. 3rd St., San Jose , CA

Call

+1 408.293.9976

Web

Tags

Hours

Mon-Sun (11am-12am)

About
Fresh Food, Not Fast Food

At Smoke Eaters we serve fresh food that's made to order every day. We show up early to carefully hand craft our specialty sauces from scratch. There are no compromises, and we don't cut corners. No MSG, no trans fats, just flavor. You'll taste the difference, whether it's our world famous wings, mouthwatering sandwiches, or awesome side dishes. Anyone can make chicken wings, we simply do it best, that's why we've been in business for over 15 years.

The Hottest Wings on the Planet
Smoke Eaters wings aren't just better, they're bigger, hotter, and fresh made to order. Our jumbo-sized wings also have more meat and more flavor. With seven levels of heat from mild to mind-blowing, you can pick the perfect sauce. You want mellow and sweet (you sissy)? Try the Honey BBQ. If you want a classic kick, try the buttery Traditional sauces for a wicked flavor that'll smack you upside the head. Want to sweat without a workout? Go for our "top three" hot sauces that pack in the additional heat of habanero pepper, one of the hottest peppers in the world. Just remember, no one is going to hold your hand, you cry baby.

Cold Beer to Quench the Fire
We've got a big selection of drinks, but nothing goes better with hot wings than cold beer, and we love beer. Whether you want a light ale or a darker brew with more hop flavor, our selection of the finest beers on tap will satisfy anyone who craves a cold one. Order a pint to wet your whistle, or go for a gallon (you read that right) to get the party started.

Great Sports, Good Times
If you love sports, Smoke Eaters is THE place to see every game. Football, Basketball, Baseball… we've got the full package in high definition. Even better, there are plenty HDTVs on every wall so you can easily see each matchup, no matter where you're sitting. In the mood to watch a fight? We get the best boxing and UFC events from pay-per-view too. And because we love sports just as much as you do, feel free to come over and host your fantasy draft at our place, we'll hook you up. So whether you've got March Madness, Playoff Fever, or want you to catch that once-in-a-lifetime event, Smoke Eaters is the place for hot food, cold beer, and great sports.

Twitter
Now available: @moonrakerbeer Sling Jaw
Now available: Dust Bowl Taco Truck Lager
Now available: @CoronadoBrewing Early Bird Cold-Brew Milk Stout