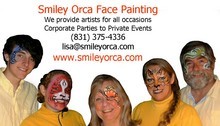 Smiley Orca Face Painting
Where

27 Yerba Buena Court, Monterey , CA

Call

831 3754336

Contact

Web

Tags
About
Safe, Fun Face Painting by Smiley Orca Artists!! Individual faces for that special party guest to the largest event our team can handle it all! We have worked many events from Monterey County Fair to Gilroy Garlic Festival. Companies such as Pasadera Golf and Country Club, Pebble Beach, and First National Bank to birthday parties in Monterey or Santa Cruz counties have experienced the best in Face Painting from the Smiley Orca Face Painting Team.

Have the BEST award winning artists on the Central Coast at your event! Our artists paint amazing designs like Pirates, Princesses, Dragons and Butterflies even full face Tigers, Sharks and Mermaids! Schedule your event with uswith a simple call or email today (831) 375-4336 [email protected]

To see what we do check out our website at Smileyorca.com or drop by one of our local booths on Monterey's Fisherman's Wharf or Cannery Row's Steinbeck Plaza every weekend. We even have and artists available every week at the OMB farmers market on alvarado St. in Monterey on Tuesday evening from 4p-7p.

Our team gives back to our community too! In 2009 we will be offering FREE Face painting at the community dinners on Thanksgiving and Christmas days out at the Monterey County Fairgrounds 2004 Fairgrounds Rd. Monterey, CA from 10a-3p
Join us for a free day with your community too!

We will be teaching face painting at the FPBA convention in 2010 in Las Vegas, NV Hope we see you there!