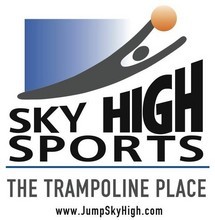 Sky High Sports
Where

2880 Mead Ave, Santa Clara , CA

Call

+1 408.496.5867

Web

Tags

Hours

Mon (11am-10pm)
Tue-Thu (2pm-10pm)
Fri (11am-12am)
Sat (10am-12am)
Sun (10am-10pm)

About
Click Here to win Jump Passes to Sky High: Click to win!


Sky High Sports is a unique trampoline fun center. This facility has been designed and created for one purpose: to have FUN! Come and improvise! Whether you flip forward or flip backward, you will definitely flip out for Sky High Sports! You can free-bounce and do tricks all day, or you can join us for some of ourorganized activities, like our trampoline dodgeball. As long as you like to bounce, Sky High Sports is for you. Everyone is welcome. Come by for an hour or two and have some fun. Unlike home trampolines, with our specially designed, spring loaded frame, landing here has more give. All frames and springs are covered by 2 inch thick safety pads. With 360 degrees of trampoline walls and court supervisors, there's no falling off this trampoline.

Love to play Dodgeball?
At Sky High, we have redefined Dodgeball. One game and you'll be hooked. Have fun with the "Air Attack" or the "Bounce, Twist and Dodge". Bring your friends or join a pick up game that's in progress. The old game of Dodgeball may have been a blast, but this new style will knock you and your friends off your feet, literally!


Come and join our AIRobics Classes!
Hard work and fun. How often do those go together? They do with our trampoline AIRobics classes! AIRobics is low impact fat burning exercise that improves balance and coordination and it is fun and energizing! The workout consists of moves from many different workout activities, and it incorporates some moves that can only be done on a trampoline. Studies show that an hour of jumping on a trampoline burns over 1,000 calories. It's the best cardio you will ever enjoy. Planning a Birthday Party?
Sky High has many packages to choose from to make your birthday celebration one to remember!

Feel free to check out our videos!