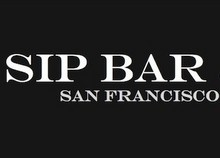 SIP BAR & LOUNGE
Where

787 Broadway Street, San Francisco , CA

Call

415.699.6545

Contact

Web

Tags

Hours

Mon-Thu (Closed)
Fri-Sat (9pm-2am)
Sun (Closed)

About

Named "One of 'THE BEST LOUNGE BARS IN SAN FRANCISCO' by CBS LOCAL SF, SIP BAR & LOUNGE is a classic, urban cocktail lounge & weekend nightclub offering an array of spirits, beer, wine, visual & musical entertainment with an unpretentious & welcoming feel.

From the moment you step out of your cab onto the bustling Broadway thoroughfare, through our unassuming facade, into our gently-lit & welcoming space & are greeted by our door staff, to your first exchanges with our friendly bartenders, you will see that we are committed to fostering a fun, diverse & inclusive environment- the same values for which the City of San Francisco is renown.

Designed with modern, but classic-minimalism in mind, the bar features a spacious 1,000 square-foot Main Bar area with 16 foot high ceilings, a 30 foot long full bar & an elevated DJ platform overlooking both levels of our venue. Leather banquette mirrored booths & our Gallery of Action-Star Generals line the wall opposite the bar, below a 360" video projection wall.


A few steps up, The Hancock Room bar & lounge area is an intimate, Colonial US History-themed 600 square-foot space furnished with antique leather sofas, coffee tables & epic artwork depciting our Founding Fathers in action. The Hancock Room features it's own full bar and restrooms. Open to all guests occassionally, The Hancock Room is the perfect space to host private affairs & is available for use at reasonable drink minimums.


SIP is a locally-owned, small business; medium in size for a San Francisco bar or lounge. We handle all of our own marketing, DJ talent, VIP table & private event booking internally to ensure you have the best experience possible. We do not regularly work with club promoters, so you can count on the fact that as a guest or event organizer, you will experience consistent, high-quality service, never have to pay a cover charge or stand in a long line to get inside. The bar does not impose a dress code or charge a cover for admission with rare exception to bona-fide fundraiser events, for which the bar does not accept any door proceeds. SIP is open Friday & Saturday nights from 9pm to 2am. Closed Sunday through Thursday, but available 7 days a week to host happy hour functions, networking events, charitable fundraisers or for just about any type of celebration you can imagine!


Twitter
#free #standup #comedy #tonight #northbeach #chinatown #nobhill #russianhill #nocover #21andover… https://t.co/JXdGVx4rj9
Come have a #cocktail with us! What's the worst that could happen? #classy #bar in #northbeach… https://t.co/CBNZkY36n3
#comedynight returns to SIP. Every #Monday night starting 9/18. #nocover #21andover… https://t.co/ylKVmKzwhl