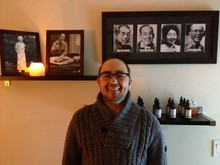 SF REIKI CENTER
Where

3150 18th Street, Suite 243, San Francisco , CA

Call

+1 415.800.8790

Contact

Web

Tags

Hours

Mon-Sun (8am-8pm)

About
SF REIKI CENTER is located in the heart of the Mission District on 18th and Treat. We have private Reiki sessions, a Reiki Clinic (sliding scale on Sundays from 6pm to 9pm, Reiki Classes. We also offer remote/distance Reiki healing.

SF REIKI CENTER utilizes the Usui traditional form of Reiki discovered by Dr. Mikao Usui of Kyoto, Japan.

Reiki is an ancient Buddhist technique of channeling energy through the palms of the hands. This vital spiritual energy activates the natural healing processes, detoxifying the body of both physical and emotional blockages while bringing about deep relaxation and calmness.

Reiki enhances the body's immune system by treating the whole body rather than treating specific conditions.

Reduces stress and produces a state of relaxation.

Decreases anxiety often associated with disease, illness and crisis.

Prevents disease and sickness.

Aids in the healing process, emotionally and physically from surgeries and other ailments.

Controls disease symptoms and side effects of cancer treatments.

Removes emotional and mental blockages, aiding in personal growth and spiritual awareness.