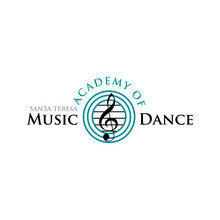 Santa Teresa Academy of Music and Dance
Where

7174 Santa Teresa Blvd. Ste. A2, San Jose , CA

Call

+1 408.226.8742

Contact

Web

Tags

Hours

Mon-Fri (3pm-9pm)
Sat-Sun (n/a)

About
Santa Teresa Academy of Music and Dance was established to bring exceptional music and dance instruction to the city of San Jose. Our beautifully designed facility includes professional floating hardwood dance floors and sound dampened music rooms with windows in every door. Teachers at our school are experts in their instrument or dance style and are experienced in working with students of all levels, especially beginners.

We offer dance classes in Ballet, Jazz, Hip Hop, Tap, Preschool Dance and Parent and Tot. We are also proud to be one of very few studios in the area to teach ballroom classes for children and teens, as well as adults. We offer private music instruction as well as group classes in piano, guitar, voice, violin and cello. Our music lessons and dance classes are scheduled at a variety of times so that you can book classes at a time that works best for you.

We are conveniently located in the Santa Teresa area, close to Blossom Hill, Almaden Valley, Evergreen, Willow Glen, Cambrian, and South San Jose. We look forward to serving all San Jose families as well as those in the neighboring communities of Morgan Hill, Campbell and Los Gatos. With our commitment to offering quality instruction to students of all ages and levels, and our wide range of programs in music and dance we are sure to offer just what you are looking for.

CONSIDER NINE BENEFITS OF BECOMING AN ACADEMY STUDENT

1. Music and Dance in one location, saving you time & money.

This saves our students time and money, as one family can take multiple programs on the same day. Other studios offer only music lessons or only dance classes, but we are the only one in the area to offer both! Music lessons: Guitar, Piano, Voice, Flute, Recorder and Music for Little Mozarts. Dance classes: Ballet, Jazz, Hip Hop, Ballroom for children and adults, and Parent and Tot.



2. Qualified teaching faculty who are dedicated to helping your child learn.

We desire to inspire our students and develop in them the love of music and dance. We do this through teachers and music that our students love. Our teachers have either University training or professional performance/teaching experience and are dedicated to learning about your child's personal goals and helping them to achieve them. In addition to their credentials, our music and dance teachers have warm personalities, are extremely friendly and are dedicated to teaching your student the dance or music style that they want to learn.



3. A wide range of dance class and music lesson times available to fit your busy schedule.

3:00 p.m. - 9:00 p.m. Monday - Friday • Saturdays by appointment.



4. Recitals so that your family & friends can share in your musical or dance journey.

Every June and December, our music students have the option of performing in our recitals. While music students are not required to perform, many choose to. Our music recitals take place in a beautiful, 1,200 seat auditorium with a grand piano. Dance students participate in our end of year dance recital held in June.



5. Students of all ages are welcome!

It doesn't matter if you have a young child who's brand new to music and dance, or if you're a grandparent wanting to revisit those piano lessons that you took in grade school, our instructors are ready to create a unique program to fit your needs.



6. Professionally sound proofed music and dance studios.

Our beautifully designed facility was specifically planned with music lessons and dance classes in mind. Our music lessons take place in sound dampened music rooms with viewing windows in every door. Our dance studio contains floating hardwood dance floors appropriate for Ballet, Jazz, Hip-Hop and ballroom dancing.



7. Professional office staff to serve you.

Our goal is to provide you with the best customer service possible. Many music studio desks are staffed by the teacher/owner or more commonly an answering machine. We have a full-time office manager who is available at the front desk to assist our clients quickly and professionally during all music and dance lessons. Excellent customer service is what sets us apart!



8. We offer a picture day not only for our dance students, but for our music students as well!

Every year we host a free picture day with a professional photographer. This is a service that our student's parents love as they all want quality photos of their children. Adults are welcome too! Music students can bring their instruments to the photo shoot and wear whatever they like. Dance students wear their recital costume.



9. Month to Month lessons.

Unlike other programs, we do not require semester minimums for lessons. You can begin anytime! To stop lessons, we just need a 30 day notice.