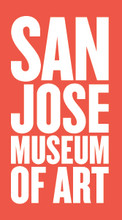 San Jose Museum of Art
Where

110 S Market St, San Jose , CA

Call

+1 408.271.6840

Contact

Web

Tags

Hours

Mon (closed)
Tue-Sun (11am-5pm)

About
Since 1969, the museum concentrates on California and West Coast artists and boasts a strong permanent collection that can be seen in rotating shows; its holdings are especially deep in the Bay Area's abstract expressionist painters of the post-World War II era.

2007 - 2017: 10 years in Best of Silicon Valley: Best Art Museum
2018 Hall of Fame: Editor's Choice Best Art Musuem in Silicon Valley.

Public tours: Tuesday - Sunday
1:00 pm & 2:30pm
Call for private group (10 ppl+) tours : 408-291-5393

SJMA is the leading institution dedicated to visual culture in Silicon Valley. It is a community anchor, ensuring artistic excellence and access for an extraordinarily diverse populace. It is a contemporary art center whose acclaimed exhibitions have ranged across modern masterworks to the newest frontiers of art.

Third Thursdays: 5pm - 8pm
$5 After 5pm
Facebook First Fridays: Free Admission

Admission:
Adults: $10
Seniors: $8
College Student w/ID: $6
Youth 7-17: $5

Free: Children under 6 & SJMA Members

Exhibits & Collections: https://sjmusart.org/exhibitions-on-view Hyper link:
Dinh Q Lê: True Jounrye is Return: Now - Sunday April 7, 2019
Other Walks Wother Lines; Now - Sunday March 10, 2019
Conversion: Art & Engineering: now - Sunday April 7, 2019 d

Upcoming:
Undersoul: Jay deFeo: Friday, March 8 - Sunday July 7, 2019

A public benefit 501(c)3 organization located in downtown San Jose, SJMA serves 225,000 people a year. 55,000 are children, nearly 40,000 of whom participate in our locally applauded Studio Arts Education programs. As the largest provider of visual arts education to regional public schools, SJMA pays special heed to the needs of students in schools receiving federal Title I funding (indicating that at least 50% of the students' families already receive funding in the form of Aid for Families with Dependent Children [AFDC] and are considered "at risk" of dropping/failing out of school).
Twitter
@MayraFlores408 @gary_singh @mikemcgee Thanks for watching!
RT @metronewspaper: New #SiliconAlleys book relishes the bizarro side of San Jose. https://t.co/veEEvPsEYV
Lunchtime Lecture TOMW @ 12PM: @gary_singh recounts historic events within SJMA's building for his new book… https://t.co/pOu5RCpg2J